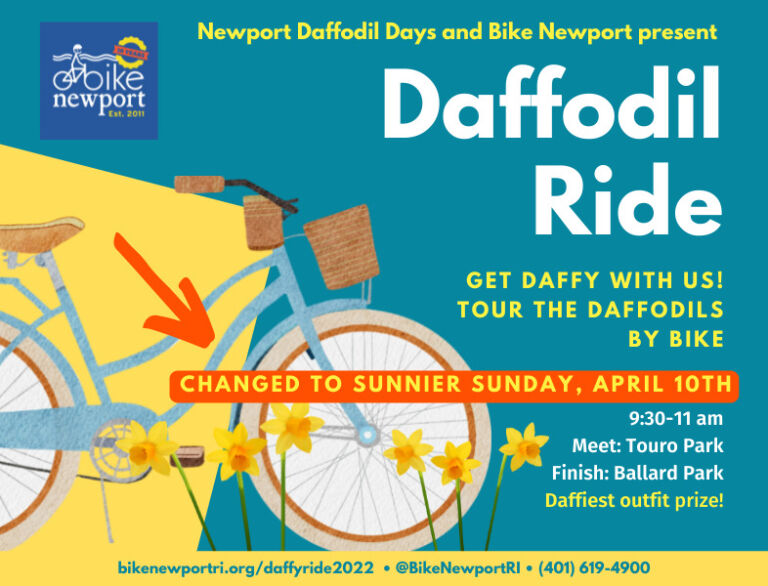 NEW DATE: SUNNIER SUNDAY APRIL 10th
‪Meet: Touro Park | 9.30 am‬
(Bellevue Avenue between Mill and Pelham Streets)
Rain date is Sunday April 10th, 9:30 am.
Register for free. Donations encouraged.
Come join the annual Daffodil Ride in celebration of Newport Daffodil Festival!
Decorate your bike, don your yellow jersey and join other daffy riders for an easy 4-mile ride to view beds of 1 million daffodils throughout Newport, ending at Ballard Park where over 20,000 will greet us. Prize for the best decorated bike and daffiest outfit!
Or you can make your own Daffodil bike ride any day any time. Download the Ride Spot app and follow this route for a self-guided ride or make your own! The daffodillion daffies are all over the City and will be in bloom for several weeks.
Go ahead and get daffy! We'd love to see you in your daffodillion best, be sure to tag us on social media @bikenewportri
Some ride rules:
Please continue to be mindful of Covid-19 and do not attend if you're not feeling well.
Make sure your bike is ready to ride, pump up your tires and wear a helmet.
Please don't pick the flowers.
Please stay at home if you feel unwell, have Covid-19 or suspect you may have Covid-19.