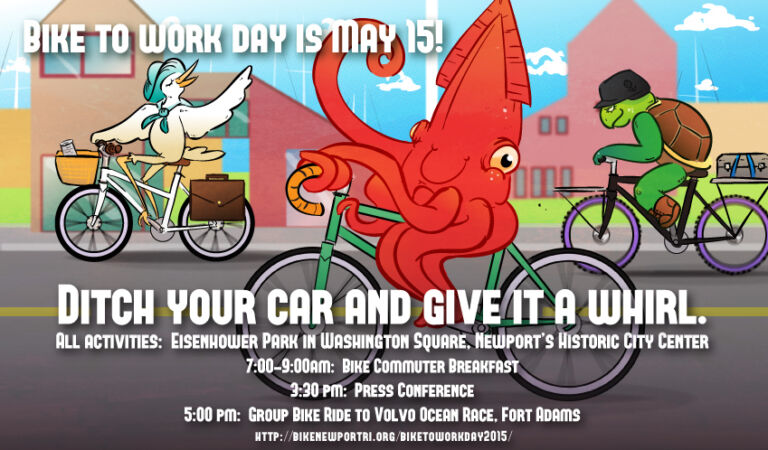 Bike to Work Day is an annual event held on the third Friday in May all around the world promoting bicycling for daily transportation. Here in Newport, we've been celebrating Bike to Work Day since 2011. This is the day to leave your car home and put your feet in the pedals. Breathe deep and smile solo, or meet up with your friends and colleagues for a group ride to the office. Know that the chances you'll arrive smiling are extra high. Biking = happiness. Active transportation leads to productivity. Start the day at Bike Newport's Bike Commuter Breakfast and end the day with a group ride to the Volvo Ocean Race festivities at Fort Adams State Park.
All activities take place at Eisenhower Park in Washington Square – the historic center of Newport. Join the Facebook event HERE.
7:00-9:00am: Bike Commuter Breakfast provided by Washington Square Cafe & Baking Company, A Market Natural Foods, and Stop & Shop.
3:30pm: Program and award ceremony
5:00pm: 3-mile group ride to the Volvo Ocean Race Newport!
Too far to bike, or over the bridge? Use the dedicated "Park 'n Bike" lots located at Bike Newport's office, 437 Broadway, or at the YMCA on Valley Road in Middletown. You can park, hop on your bike, and pedal to  the Bike to Work Day breakfast before continuing to your workplace. Or, use RIPTA's Rack n' Ride to get into town from anywhere in the state.
Have you been thinking –  "Wow, I could bike or walk to that meeting and clear my head on the way." "Oh my, if I had biked here I wouldn't be stressing this parking search" "Gee, the market really is close by."? Bike to Work Day is meant to be the day you give it a try and find out what you've been missing!
Already a happy transportation cyclist? Use the day to get your friends in the saddle. Share the love!
It's always an amazing day, and full confirmation of the delight of starting the day on your bike. It's fun, healthy, invigorating AND makes us more happy and productive. Give it a try and see what you think. Maybe it will become a habit. We hope so!
Why bike commute?
How to bike commute
Thanks to supporter supreme Steve Sabo for bringing Squiddo and his friends back for Bike to Work Day on our banner art!