Whether for transportation, recreation, fitness, or carbon reduction – let's together help everyone have access to bicycles! You donate the bikes, we restore and distribute them – it's an awesome partnership. And you can also be part of the repair/restoration process – read on.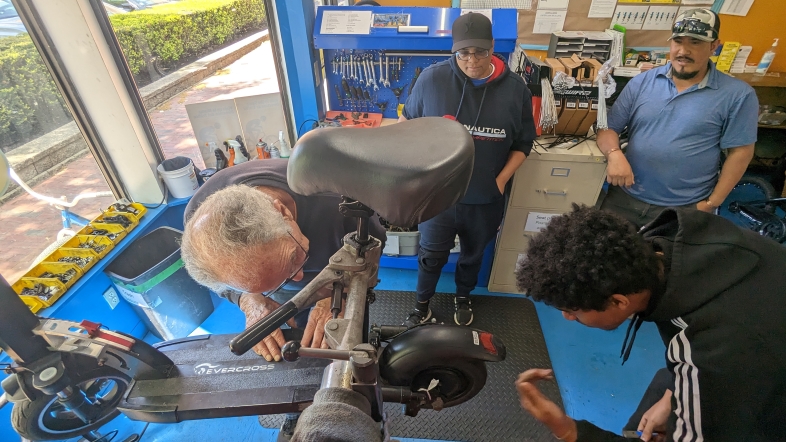 The Power of Donating Bicycles
Donating your bicycles to Bike Newport can significantly impact the lives of individuals and families who need them. Bicycles may not be accessible to people facing financial constraints, and your donation can bridge that gap, providing more people with reliable and affordable means of transportation. A donated bicycle can transform someone's life by helping them to commute to work, access educational programs, and enjoy the independence and health benefits that come with cycling.
The Donation Process
Do you have an old bike in your garage or basement that you don't ride anymore? We accept used bicycles that are in good condition and can be repaired to again be road-worthy. Flat tires, gears that don't work, and brakes that need help are all OK! Bikes with a lot of rust are may be beyond repair and are better off at the the scrap yard. Not sure? Send a photo to info@bikenewportri.org and we can let you know if it's repairable.
There are lots of different kinds of bikes, and we can find homes for everything from tricycles to classic English racers. The most popular – and therefore most in demand – are:
· Hybrid/City Bikes
· Mountain Bikes
· Beach Cruisers
Since 2011, we have repaired, refurbished, and distributed hundreds of bikes in the community – and many of them originated from donations like yours. In fact, in 2021 we were recognized by the League of American Bicyclists as the national Bicycle Advocacy Organization of the Year, in large part because of our work continuing to distribute bikes in large numbers throughout COVID when the demand for bikes for transportation was so very high.
DROP OFF: Bikes can be brought to the Bike Newport HQ at 62 Broadway in Newport, Monday to Friday 9-5pm. They can also be brought to our Bike Garage at the back entrance of 62 Broadway on Mondays and Thursdays until 7pm. (If the condition is questionable, our staff will look it over and let you know if we can accept it.) Your donations are needed and appreciated and a tax deduction receipt is available for those who'd like one. Thank you!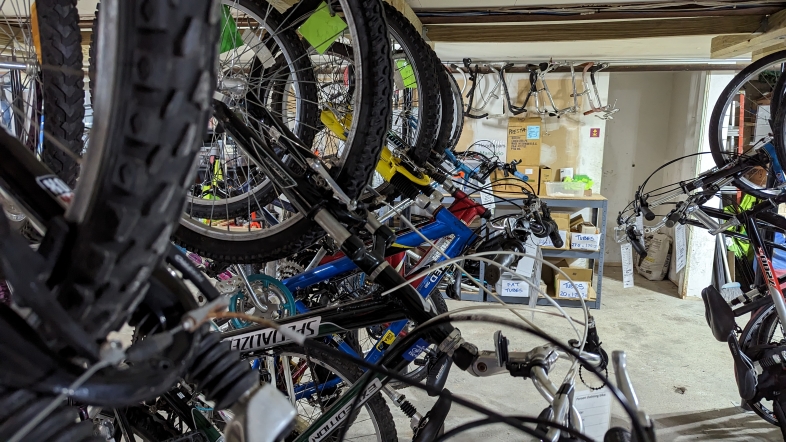 Supporting Bike Newport's Initiatives
Apart from donating bicycles, there are other ways to support Bike Newport's efforts:
Volunteer: We ❤️ volunteers! If you want to contribute your skills, time and energy to our bike restoration work, to community events, to education programs, or to marshaling group rides – we will welcome you!
Donations: If you can't donate a bicycle, consider making a financial contribution to Bike Newport. Your donation will help fund various initiatives, including bike safety education, infrastructure improvements, and bicycle access programs.
The Ripple Effect
By donating your bicycle to Bike Newport, you are providing more than transportation. When people have bicycles, it eases traffic congestion, promotes environmental sustainability, and enhances overall community well-being. Donating your bicycle is a meaningful and practical way to give back to your community. So, dust off that old bike in your basement and donate it to Bike Newport!