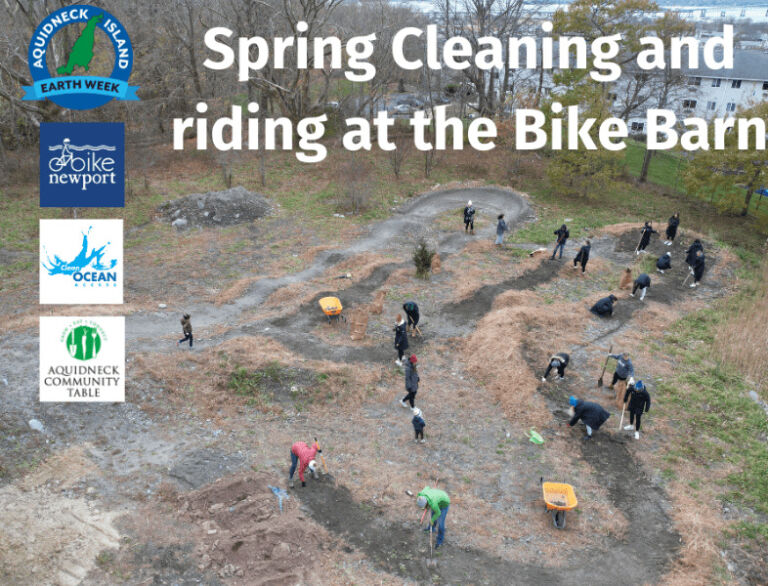 To once again honor environmental activism, stewardship and sustainability efforts in over 190 countries worldwide, the Aquidneck Island Earth Week Committee and partners have been planning community celebrations to take place during the month from April 10th through April 30. You can read a list of programs from partnering organizations here – and whenever possible, ride your bike! Because biking expresses your commitment to a healthy planet – and it makes you happy. But you already know that …
Join us and our friends from Clean Ocean Access and Aquidneck Community Table at the Bike Barn to celebrate Aquidneck Island Earth Week with a big Spring Cleaning of the Bike Barn campus and Pump Track. Let's show up and make the most of our time and beautiful surroundings. It takes a village!
What better way to show our love of the Earth than riding a bike? The Bike Newport website has a wealth of resources to get you on your bike, starting with what we suggest at the start of every ride: the ABC Quick Check.
If your bike is in need of some care, head to our resources page for how-to videos to fix-it-yourself. Feeling handy and confident but don't have the tools? Get air and tools at one of our five Fix-It stations around Newport: outside Bike Newport 62 Broadway, behind Thompson Middle School, at the Visitor Center, at Ashmart and at the Florence Gray Center, and our Maps & Rides page has a variety of local routes for all levels of riders,
Bring a little bike love to your family activities. Check out printable coloring books and instructional videos under our Ideas for Kids section (scroll down.)