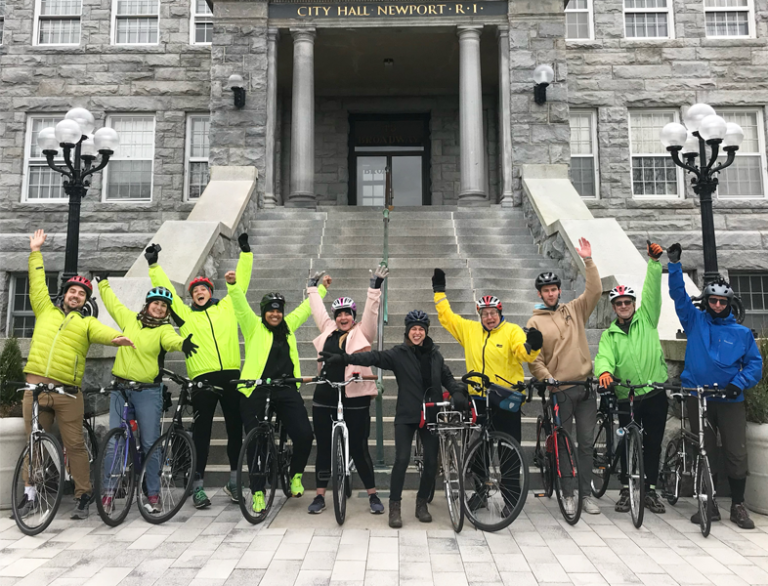 Lil Rhody now has eight new qualified 'League of American Bicyclists' cycling instructors, including five from Bike Newport. We were joined by staff from FAB Newport, Rhode Island Department of Transportation and Recycle-A-Bike in Providence.
Thank you to Rich Conroy, our League of American Bicyclists Lead Instructor, for his time and dedication to ensuring more bike instructors are trained in RI. And to Betty Bourret and Donny Green for spending all weekend with us being the facilitators and assisting Rich. Your commitment and dedication to 'Smart Cycling' is very much appreciated.
League Cycling Instructors (LCIs) are ambassadors for better biking through education. After earning certification through a 3-day, League Coach-led seminar, LCIs teach Smart Cycling classes to children as well as adults. Our goal is to help people feel more secure about getting on a bike, to create a mindset that bikes are treated as a vehicle, and to ensure that people on bikes know how to ride safely and legally.
The LCI training seminar focuses on teaching and demonstration techniques used with future students both on the road and in the classroom. The seminar emphasis is on how to teach bicycle safety and skills so as to provide increased comfort and confidence for new and returning bicyclists and youth. The seminar does not emphasize the content or specific details of the cycling course curricula. It is primarily about teaching, and each candidate will have opportunities during the seminar to practice facilitating parts of the Smart Cycling curriculum, both in the classroom and in the parking lot.
– From the League of American Bicyclists website.
Thank you to the Lorber Foundation for the two scholarships via former RI resident and LCI Bryan Lorber.
If you're interested in learning more about bike safety, education, infrastructure or classes, please email Clare.