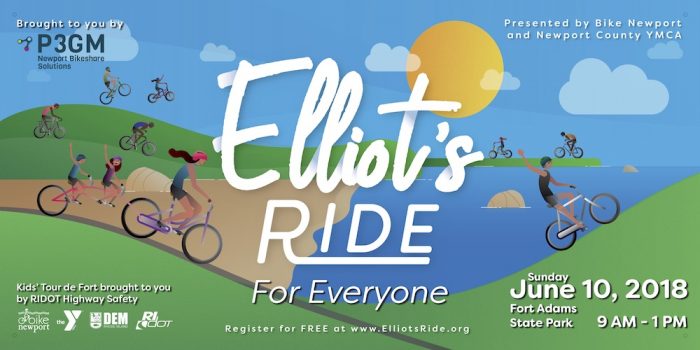 Please JOIN US: 
For the launch of Elliot's Ride for Everyone, the annual community bike ride that focuses on safe sharing of roads, and welcomes people of all abilities and walks of life.
Wednesday, May 9th, 10:00am
Newport County YMCA
Light refreshments will be provided.
Speakers:
Bari Freeman, Exec Director, Bike Newport
Mike Miller, CEO, Newport County YMCA
Joe Dias, Exec Director, Fort Adams Trust
Introducing:
Vincent Raia, P3GM Newport Bikeshare Solutions, Title Sponsor
Andrew Tainsch, RIDOT, Office on Highway Safety
Megan DiPrete, RIDEM, Office of Planning and Development
Angela Marandola, Newport Health Equity Zone
Kyle Printer, Bike-On, Adaptive Cycling
Elliot's Ride for Everyone takes place Sunday, June 10 at Fort Adams State Park and along the Newport ocean coastline.
For more information, visit ElliotsRide.org, or contact:
Dave Mann, Director of Development, Bike Newport
dave@bikenewportri.org, 401-643-0942
With Support from:
RIDOT Office on Highway Safety