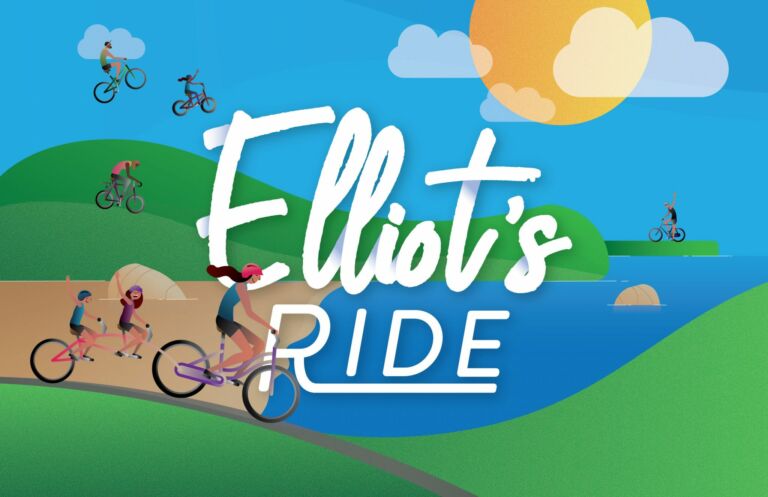 ELLIOT'S RIDE
A Ride for EVERYONE!
 Sunday June 10th, 2018, 9:00am-1.00pm
Beginning and ending at Fort Adams State Park
Billed as "A Ride For Everyone!", Elliot's Ride seeks to bring lots of people together to ride along the ocean. "People who ride there every day and people who've never ridden there before,"  – www.elliotsride.org
Elliot's Ride for Everyone is a FREE, all-day bicycle event for every age, every skill, everyone! Come out and ride along Newport's scenic ocean coastline! Whether it's your first time, or your favorite ride, this is the day to celebrate the joy of bike riding together. Or choose to WALK the two-mile, scenic Harbor Walk loop. There will be food, music, activities and demonstrations – all funds raised support bicycle education programs.
The goal is more people on bikes having a great time together."We're going to remove every obstacle to getting there," shared event coordinator Niko Merritt. "Buses and group rides will help get people to the park; we'll have skills training for new riders; and you can even earn a bike at Bike Newport if you don't have one! Our goal is to get lots of folks to Fort Adams to ride along the ocean together – including people like me who had not ridden seaside until recently!"
Title sponsor of Elliot's Ride for Everyone is P3GM Newport Bike Share Solutions. P3GM is a smart city development company and will bring a pilot bike share company to Newport for a few days surrounding the event "so people can try it out!", explained representative Vincent Raia. "Bike share programs are a key to healthy, environmentally-friendly transportation, and to universal access to biking. People on bikes enhance the economic vitality and livability of our cities. We are very excited to sponsor a ride with a vision to include EVERYONE."
Elliot's Ride – a true community experience – is also sponsored by BankNewport and the RIDOT Department of Highway Safety, co-produced by Bike Newport and the Newport County YMCA, and hosted by the RI Department of Environmental Management.
This year, amazing adaptive bikes will join the ranks. Warwick-based Bike-On will bring bikes specially made for people with different abilities, including hand-pedaled bikes and side-by-side tandems. Kyle Printer of Bike-On said adaptive riders are usually overlooked or an add on. "We're very excited that Elliot's Ride is focused on welcoming all sorts of riders, and we plan to have lots of people from our adaptive cyclist community participate!"
Newport HEZ is helping to spread the word and encourage new riders to join the fun and ride the coastline. "Our work at the HEZ is to encourage consideration of all members of the community and to see barriers removed. Free registration and transportation are real ways to ensure that anyone who wants to participate can."
Registration is FREE. There is no fee to participate. "Elliot's Ride" will raise funds for bike safety education programs through donations and will support joint programs by Bike Newport and the Newport County YMCA. These two organizations work together to help more people choose biking for both transportation and recreation – for health, equity, connectivity, economy, quality of life and quality of place.
Elliot's Ride for Everyone is hosted at Fort Adams Family. Joe Dias, Executive Director of Fort Adams Trust, and Megan DiPrete of RI Department of Environmental Management (RIDEM) shared that the event fits perfectly with the Fort Adams vision to encourage more people to come out to enjoy the Fort and the surrounding area.
Dave Mann of Bike Newport and Kristin Petrarca of the YMCA summed it up, "We're excited to have such a rich group of partners involved in Elliot's Ride for Everyone. With all of us pulling together our communities to participate, we're bound to have an amazing event."
Elliot's Ride honors Elliot Kaminitz, who lost his life while biking near Easton's Beach in 2012. His wife, Renee Kaminitz became a board member at Bike Newport and an advocate for safer cycling, "Elliot would so greatly support this event, this movement. He wanted to see more people on bikes while shining a spotlight on the importance of road safety. We hope that everyone will come out for Elliot's Ride and together we'll show what's possible for community health and happiness."
This year, riders will have the option of either a 6, 10, or 20 mile route. Bike Newport marshals and the Newport Police will be stationed along the route to provide assistance and keep the ride rolling safely and smoothly.
In addition to the ride, the kids "Tour de Fort" will be a special area of activities dedicated to kids and bicycles, safety and fun. Inside historic Fort Adams the kids will have their own ride. Bike Newport's team of instructors and volunteers will help kids and their grown-ups with bike checkups, helmet fitting, on-bike skills and riding fun. There will also be plenty of refreshments, music, yoga and other activities.
For more information and to register, volunteer, donate, and sponsor, please visit www.elliotsride.org or call Bike Newport at 619-4900.