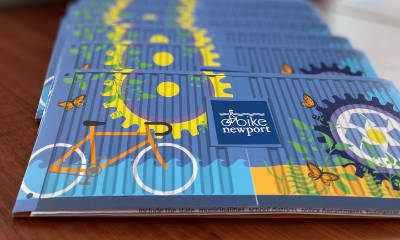 IT'S A MATCH – DOUBLE YOUR DONATION!
Your contribution will be doubled between now and December 31st thanks to a matching gift from the Bazarsky Family Foundation.
Bike Newport is volunteers, bike donors, activists, funders, and YOU! You can help us to spread the bike love that help us make even more progress in 2020. And if you give now, we can double your love!
BE A PART OF BICYCLE PROGRESS
Bike Newport wants to give more back to the community, and you can help. Our end-of-year campaign supports more ways for people to learn and enjoy cycling, and more assurance that safe, comfortable cycling is possible for everyone – and we need your help to make it happen!
The month-long campaign, which runs through December, will fund education and advocacy programs into 2020 and can be accessed on our website: bikenewportri.org/donate. Thanks in advance for helping advance progress!
Bike Newport is about getting more people on bikes – by providing equipment, education, and a positive experience so everyone who wants to ride can do so, and so biking becomes a primary way of getting around for more people. Educational programs are for people of all ages and skills. Information addresses all road users to improve road sharing – cyclists, pedestrians and motorists. Advocacy supports smart planning that considers more than cars in our lives and on our roads. This is how we roll!
Recently, our executive director, Bari Freeman, had the chance to explain our work to visitors from Imperia, Italy, Newport's sister city: "Better bike infrastructure and strong bike culture can activate real solutions in Newport – economic, environmental, preservation and health. With the public's support, we keep these wheels turning, these economic and social drivers moving." Bicycling is a primary option in a 21st century transportation infrastructure that is equitable, efficient, and green.
Our partners include the state, municipalities, school districts, police departments, businesses, health professionals, urbanists, activists, conservationists and preservationists – because biking is all that and more. "It takes a team effort to champion change," says Valerie Larkin, Chair of Bike Newport's Board of Directors. "We're transforming transportation in the best interest of our future. Everyone benefits when we can bike and walk to get where we're going. Newport is destined to be a bike-friendly city. Our end-of-year campaign is the chance for everyone to say 'Yes, I'm in! Let's make progress together.'"
Bike Newport is at the table for the most important transportation planning conversations in a generation, advocating for policies that achieve the economic, health and environmental benefits of pro-bike investment.
So far in 2019, we have:
Served 7,475 people in 384 program sessions and events
Distributed 400 helmets and 3000 lights
Restored and distributed 316 bicycles
Continues to gather community input to optimize access and connectivity in the Pell Bridge ramp realignment plans.
Secured use of an acre of land from Newport Housing Authority to build the Big Blue Bike Barn campus, trails, gardens, and pump track.
Partnered with the city to improve trails connecting the Bike Barn with Miantonomi Park.
Gathered community input and actively informed the first Statewide Bicycle Mobility Plan due for adoption and release in 2020.
Increased bike parking capacity in partnership with local businesses.
Taken Newport Waves statewide to become RI Waves in partnership with RIDOT, RIPTA and AAA.
Closed roads to cars and opened them to people biking and walking – for the Portsmouth "Farm to Farm Ride" and Newport's "Elliot's Ride for Everyone". Hundreds of people of all ages thrilled in rolling and strolling these iconic locations safely, happily, and car-free.
In December, Bike Newport will again match dozens of children and bicycles for the annual distribution of bikes collected from community and restored with love by numerous volunteers.
In 2020, our plans include:
Expanding bike education program for city's youth
Completing the Big Blue Bike Barn campus and Pump Track
Introducing Cycling Without Age – piloted bikes for people with mobility challenges
Informing the upcoming Comprehensive Transportation Plan for Newport
Helping to bring appropriate Bike Share to Newport
Addressing priority infrastructure and safety concerns
Advancing Green & Complete Streets policies and ordinances
Ensuring bicycle and pedestrian accommodation and connectivity in the Pell Bridge ramp and North End development plans
Please Click Where It Matters
The power of giving takes on extra meaning during the holidays. Within a few seconds, you can donate to advance bike education, infrastructure and community. You can advance positive change by making ordinary online actions extraordinary.
Thank you for your support!
To make a donation – click here – or send in the envelope you received in the mail. Didn't get our mailing? Find out what you're missing. Send us your postal address and we'll get one in the mail to you.
Thanks to our generous and super-creative friends at Standard Modern Company / Reynolds DeWalt Printing for again donating our supremely special mailer.