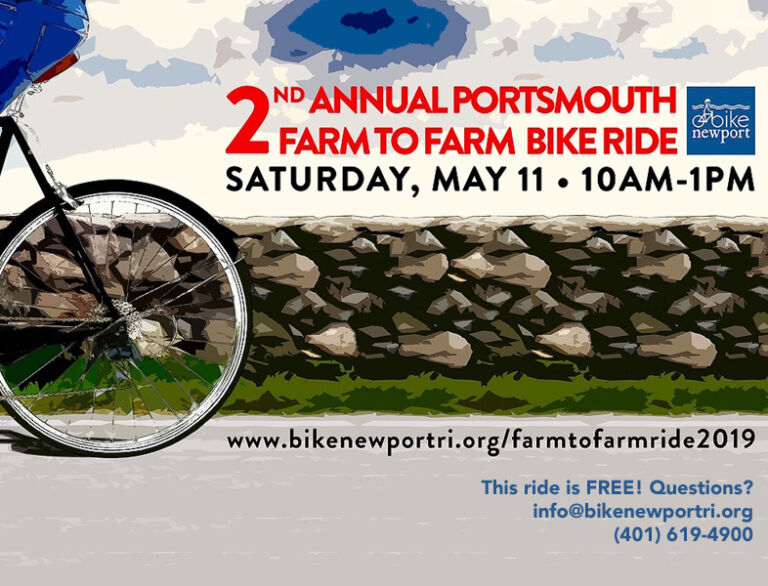 The Portsmouth Farm to Farm Ride is gearing up for a second year running. It was so successful last year that we're doing it again. And of course, as you know, rides like this can't happen without a stellar group of volunteers and we'd love for you to join us.
The ride takes place on Saturday, May 11th 10-1pm, and all volunteer roles are shifts between 9-2pm (not necessarily for the whole time.) Shifts include: registration, marshaling, parking guidance, and clean up. So go ahead, the choice is yours!
So click the link asap and sign up for your choice of job roles and times.
Here's the info about the ride:
Lovely Middle Road, lined with six family farms, will be CAR FREE so families, friends, and neighbors can enjoy the experience of riding together. On May 11th, from 10-1pm, Middle Road will close to traffic for the second Portsmouth Farm-to-Farm Bike Ride – a short and delightful FREE 4 mile ride for people of all ages and biking and walking abilities. Please join us!!!
Starting from the School Administration Building at the north end of Middle Road, at 10.00am, and turning around at Benjamin Drive at the South End, riders and walkers will pass six family farms on their way up and back on the 2 mile route: Escobar Farm, DeArruda Farm, Quonset View Farm, Portsmouth Nursery, BAW Farm, and DeCastro View Farms. Bike Newport staff and volunteers will be on hand at the start to assist with bike checks and helmet fittings, and along the route to offer assistance. There'll be food available to purchase, Reds Rhode Island, Rhody Roots, and Flat Waves Food Shack – porta-potties and lots of fun, so get it on your calendars and invite all your friends.
Many thanks to all of the partners and sponsors helping to make the day even more delightful.
Bristol Marine, Newport Family & Cosmetic Dentistry, EcoRI News, YMCA, Escobar's Farmhouse Inn, Rhody Fresh, Clean Ocean Access, Aquidneck Land Trust, Aquidneck Island Planning Commission, Town of Portsmouth, Portsmouth Historical Society, Countryside Children's Center and more to come.
Velofix will also be on site to help with any bike fixes you may need. Velofix Mobile Bike Shop is locally owned and operated and is simply the mobile version of the local bike shop!
Parking will be available at Town Hall and the School Administration Building at the intersection of Hedley Street and Middle Road and Portsmouth Police will be present to assist.
This ride is FREE! Questions? info@bikenewportri.org / (401) 619-4900