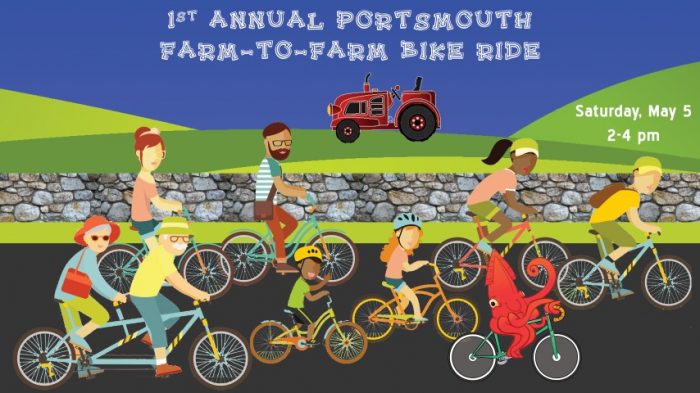 May is Bike Month!
The perfect time for an inaugural Portsmouth Farm-to-Farm Bike Ride!
Saturday, May 5th 2-4pm
Lovely Middle Road, lined with six family farms, will be CAR FREE so families, friends, and neighbors can enjoy the experience of riding together. The short four-mile ride will be delightful for riders of all ages and abilities. Walkers and strollers are welcome to join as well.
Starting from the School Administration Building at the north end of Middle Road, at 2.00pm, and turning around at Benjamin Drive at the South End, riders and walkers will pass six family farms on their way up and back on the 2 mile route: Escobar Farm, DeArruda Farm, Quonset View Farm, Portsmouth Nursery, BAW Farm, and DeCastro View Farms. Bike Newport instructors will be on hand at the start to assist with bike checks and helmet fittings, and along the route to offer assistance.
The farms are for our viewing pleasure only, however there will be information about the farms at the main gathering point and some farm staff there themselves to meet and greet with on the day.
Many thanks to all of the partners and sponsors helping to make the day even more delightful.
Parking will be available at Town Hall and the School Administration Building at the intersection of Hedley Street and Middle Road and Portsmouth Police will be present to assist.
Questions? info@bikenewportri.org / (401) 619-4900