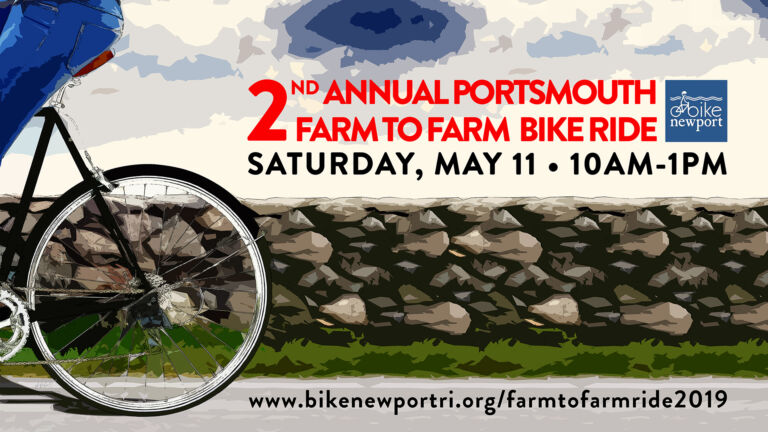 Saturday, May 11th 10-1pm. Come to Middle Road for a fun car-free time.
Lovely Middle Road, lined with six family farms, will be CAR FREE so families, friends, and neighbors can enjoy the experience of riding together. On May 11th, from 10-1pm, Middle Road will close to traffic for the second Portsmouth Farm-to-Farm Bike Ride – a short and delightful 4 mile ride for people of all ages and biking and walking abilities. Please join us!!!
Starting from the School Administration Building at the north end of Middle Road, at 10.00am, and turning around at Benjamin Drive at the South End, riders and walkers will pass six family farms on their way up and back on the 2 mile route: Escobar Farm, DeArruda Farm, Quonset View Farm, Portsmouth Nursery, BAW Farm, and DeCastro View Farms. Bike Newport instructors will be on hand at the start to assist with bike checks and helmet fittings, and along the route to offer assistance.
There'll be food available to purchase, Reds Rhode Island, Rhody Roots, and Flat Waves Food Shack and My Rolling Cafe – porta-potties and lots of fun, so get it on your calendars and invite all your friends.
In addition to the bike ride, Clean Ocean Access will be running a roadside cleanup for the duration of the event, so sign up to get your cleaning gear to help keep Middle Road beautiful for all to enjoy!
Many thanks to our Gold Sponsor
Teri Degnan Real Estate
– and all of our generous partners and sponsors who support safer streets and are helping to make the day amazing! 
Bristol Marine
, 
Newport Family & Cosmetic Dentistry
, 
EcoRI News,
YMCA
, 
Countryside Childrens's Center
, 
Aquidneck Pediatrics
, 
Escobar's Farmhouse Inn
,
Premier Landscape
, 
Aquidneck Island Planning Commission
, 
RI Farm Bureau
,
Town of Portsmouth
, 
Portsmouth Historical Society
.
Velofix will also be on site to help with any bike fixes you may need. Velofix Mobile Bike Shop is locally owned and operated and is simply the mobile version of the local bike shop!
EcoRI News for their generously donating ad space to promote the Farm Ride across RI.
Escobar's Farmhouse Inn is graciously hosting our event and has donated a two-night stay for our raffle.
Rhody Fresh Milk will be available for FREE for everyone's enjoyment.
Clements' Marketplace will be serving coffee and pastries to participants during registration.
And come learn some Portsmouth agricultural history from the Portsmouth Historical Society!
Portable toilets will be available along the route at Quonset View Farm and Anne Benson Stables.
And last, but certainly not least, thank you to the Town of Town of Portsmouth Public Works and Portsmouth Police RI Police Department for your support and collaboration!
Parking will be available at Town Hall and the School Administration Building at the intersection of Hedley Street and Middle Road and Portsmouth Police will be present to assist.
This ride is FREE! Questions? info@bikenewportri.org / (401) 619-4900