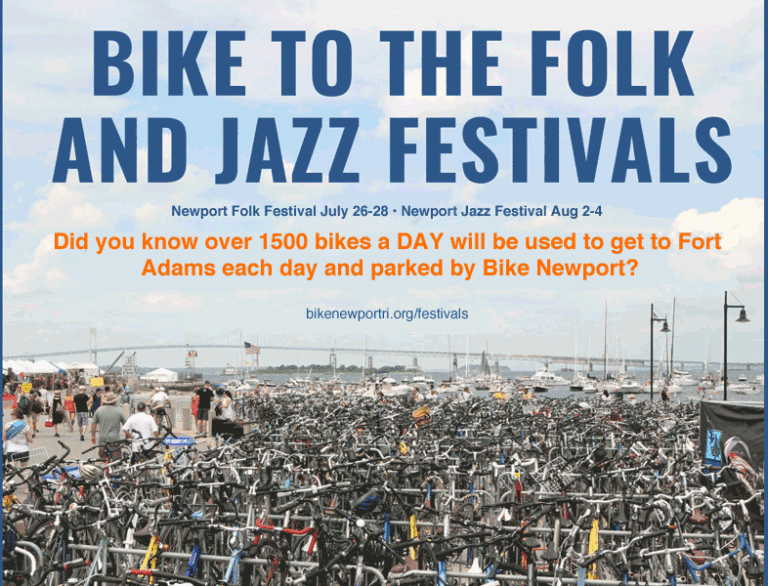 HAPPINESS IS …
… ditching the car, enjoying the ride and skipping the traffic and parking hassles. Here's how to BIKE to the Festivals.
Just one request – okay two – bring your LIGHTS and HELMET. You'll likely be leaving after dark and mother wants you to be SAFE and VISIBLE.  Jeepers, kids, we know you're a rock star in the saddle, and we all love wind in our hair, but it's a ZOO out there.
Please be aware that Newport in the summer is congested and drivers can be distracted. You should expect heavier traffic during the Festivals. Ride carefully, pay extra attention and give yourself plenty of time to ride over.
Another thing – Newport is known for its history and beauty –  but not so much for the condition of the roads. Watch for holes and ruts!
Thanks to the Newport Folk and Jazz Festivals for being BIKE FRIENDLY EVENTS!
PARK N' BIKE: 
Feel free to park anywhere in Newport where long-term parking is permitted – be sure to check signs for restrictions. Or, you can head straight our dedicated "Park n' Bike" lot at the Newport County YMCA – a very convenient location if arriving from the bridge or from the north. There is no charge for parking, though donations to your fab host – Bike Newport – are always welcome! Donations support bike education and road sharing initiatives.
 Newport County YMCA


792 Valley Road, Middletown, RI



Open May 1st – September 1st
A big "thank you" goes out to our amazing partners at the Y who have offered their third lot (highest up the hill where you'll see the "Park and Ride" signs) for cycling visitors. Please do not park in the first or second lot. There is no charge, and spots are first come, first served.
Rogers High School
Newport, Old Fort Entrance
This parking lot is available through August 25th, plus weekend of August 31-September 1 Please note:  Wickham Road lot (front of High School) is not available. 
This parking area located at the high school is very convenient to explore the southern area of Newport. The route to Fort Adams takes approximately 11 minutes by bike. There is no charge for parking, though donations to Bike Newport are always welcome and will support bike education and road sharing initiatives. Parking is first come, first served. A big "thank you" goes out to Newport Public Schools for this facility.
BASIC BIKE ROUTE to Fort Adams:

Just look for the Bike Newport cyclist signs and follow them to Fort Adams! We highly recommend you also check the maps below.  You can pull them all up on your phone. Happy cycling! Reminder – bring lights!! You'll likely be heading home in the dark. 
Bicycle route from downtown Newport to Fort Adams
AT FORT ADAMS:

 Bike Parking and Tune Ups

Talk about premiere parking! When you arrive at Fort Adams, go ahead and pass all the cars backed up and out of the park, bike all the way in and right up to the Entrance Gate – that's where you'll find Bike Parking. Volunteers and mechanics from Bike Newport will be on hand to help you. You can sign up for some basic maintenance while you're inside at the show.  Brake work, gear adjustment, or how about a nice clean 'n polish job?  All proceeds benefit Bike Newport's programs for youth.
VOLUNTEERS
Want to lend a hand at the festivals? We need all the help we can get parking up to 1,500 bikes a day. All volunteers receive a wristband to the event as well – help us make Newport's biggest summer event a bike-friendly one and catch some fabulous acts while you're at it! Email or call us at (401) 619-4900 to sign up. 
ABOUT BIKE NEWPORT
Newport's very own bicycle advocacy organization is bringing you all the bike support goodies – Park n' Bike, Bike Routes, Bike Maps, Bike Parking, On-Site Tune-Ups and Bike Power – because we LOVE bikes and we LOVE the Folk and Jazz Festivals and we LOVE when you all leave your cars home and enjoy the ride.
Bike Newport – working to improve and encourage cycling in and around Newport. Thanks for being part of the solution!