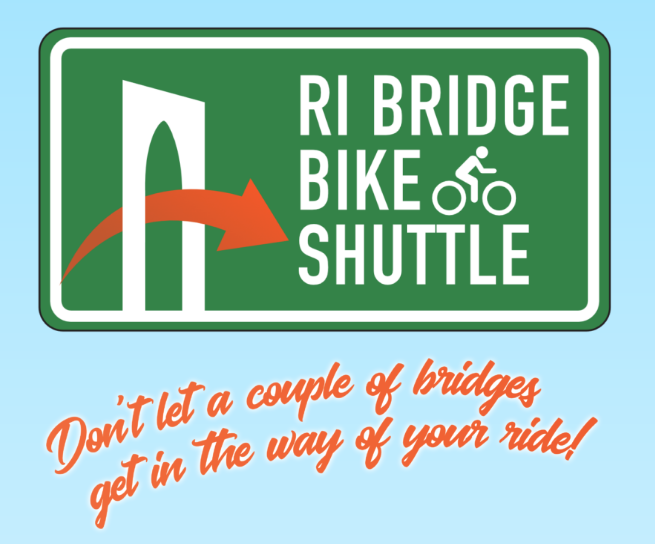 Big news!  The RI BRIDGE BIKE SHUTTLE will begin on June 30th, 2018.
Don't let a couple of bridges get in the way of your ride!
FREE People's Credit Union and Barnum Financial Group water bottles for all riders while supplies last.
Partners Bike Newport, RI Turnpike and Bridge Authority, Discover Newport, and the YMCA together present a new project to get bicyclists across the Newport Pell and Jamestown Verrazano Bridges. Beginning 
June 30th
 a free service will be in place on Saturdays through the summer season to shuttle bicyclists to and from Newport, Jamestown, and North Kingstown, making three rounds each day. Reservations will be made online at 
www.ribridgebikeshuttle.com
Eric Offenberg, Director of Engineering at RITBA, explained, "If you want to ride around Jamestown and then continue on to Narragansett, or you want to come to Jamestown and continue on to Newport, you'll be able to get across and know you have a way back across the bridges."
"Whether they're coming from Connecticut or Key West, whether they're going to Newport or the Cape or Canada, we want to make sure that our bridges don't get in the way of cyclists passing through Aquidneck Island," said Bari Freeman of Bike Newport.
Thanks to a host of generous bike-friendly local businesses and agencies, interested in getting you where you're going –  
RI Turnpike and Bridge Authority
, 
Discover Newport
, 
YMCA
, 
Preservation Society of Newport County
, 
Reynolds DeWalt
, 
Standard Modern Company
, 
VHB
, 
Barnum Financial Group
, 
AAA NorthEast
, 
Newport Restaurant Group
 and 
People's Credit Union
  – the shuttle service is FREE. These businesses understand the economic, tourism, health and environmental benefits of biking – and of happy bicyclists – thanks to all!