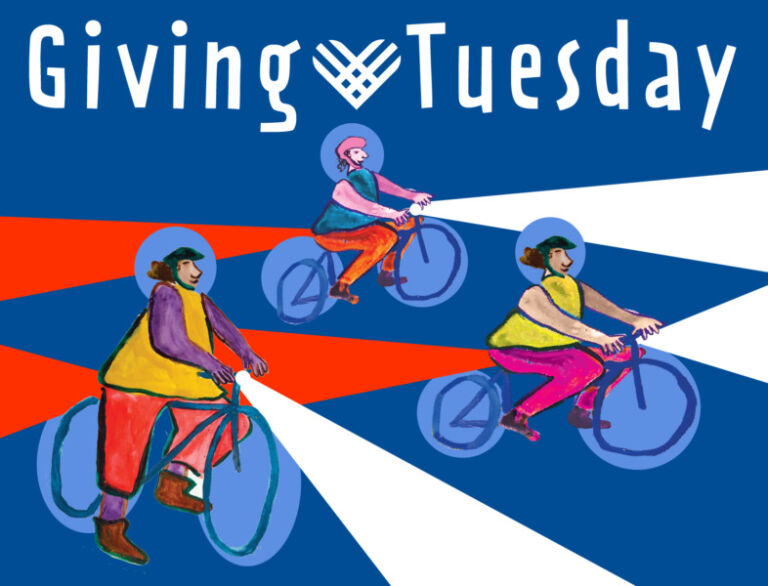 #GivingTuesday is right around the corner – and we are asking your help to make all cyclists safe and visible by providing bike safety equipment to those in need. See and be seen!
Giving Tuesday is on Tuesday, November 30, but you can start donating today – and every dollar will be doubled!
Our generous friends from Pangaea Logistics Solutions are pitching in to help build the inventory we need for 2022. They are encouraging you to join the effort by MATCHING your donations DOLLAR FOR DOLLAR so we will reach our $10,000 goal.
No need to wait, the race to brighten up bikers is on – you can donate HERE. And you can read about our most recent NIGHT BRIGHT light distribution HERE.
Your donation will help us purchase:
lights
helmets
bells
locks
reflective tape
Additionally, for every $50 donation, from now until Tuesday Nov. 30, your name will be entered into a raffle. e.g. $100 donation = 2 chances to win. This Bike Safety Kit includes: a Kryptonite bike lock, a set of front and rear lights, and a special Bike Newport winter hat!
Here are several ways you can donate and otherwise support Bike Newport: 
Click the donate link above.
Drop off cash or mail a check to our office at Bike Newport, 62 Broadway, Newport RI 02840.
Donate a bike to be restored and distributed in the community, also at 62 Broadway.
Volunteer your time – right now you can help us get bikes ready for the annual Holiday Bike Giveaway for local youth. Signup and learn more HERE.
THANK YOU ALWAYS FOR YOUR SUPPORT!
Please join Pangaea and many other supporters so we can build inventory and help bicyclists in Newport be visible on the road.