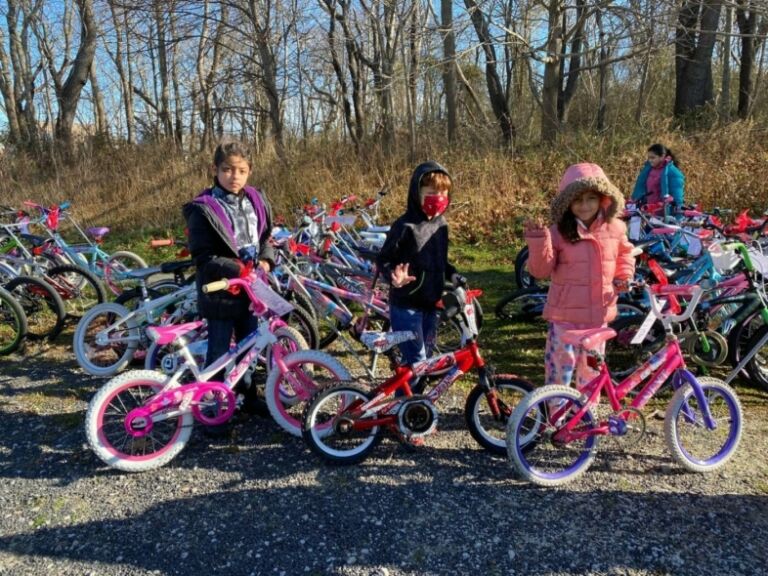 SMILING KIDS, HOT COCOA, AND HOLIDAY HAPPINESS AT BIKE NEWPORT'S ANNUAL BIKE GIVEAWAY!
The annual Bike Newport Holiday Bike Giveaway took place on Sunday, 12/12, providing bikes, helmets, bells and safety information to nearly 100 local children from Pell Elementary School. Some bikes were fitted to children on the spot, and some were chosen based on parents' descriptions so they could be Santa surprises. All were outfitted with big red bows for holiday festivity!
Hot cocoa flowed, and snacks abounded, as kids, parents, staff, volunteers, partners and donors to Bike Newport all shared in the bike happiness and as the kids headed straight for the new pump track on their new wheels. Empire Coffee and Cru Café generously contributed all of the refreshments.
People new to the Big Blue Bike Barn explored the program area, trails, gardens, and the pump track where the kids were playing.
Thanks to the generosity of the property owner, Newport Housing Authority, this former vacant lot was transformed by Bike Newport into a beautiful green and accessible public space. Generous funders of the project include People for Bikes, RI Foundation, Bazarsky Family Foundation, van Beuren Charitable, RIDOT Highway Safety and many more. Local partners include the City of Newport, Aquidneck Community Table, Aquidneck Land Trust, East Coast Construction, and more. A boatload of wonderful local volunteers helped restore all the bicycles and build the pump track.
The Big Blue Bike Barn is home to the Bike Library, Summer Bike Camp, and many other community bike programs. In the spring, it will be covered by a beautiful 900 square foot wooden canopy designed by architecture students at Roger Williams University and funded by Bank Newport and the Champlin Foundation. The Big Blue Bike Barn is a welcoming gathering space for the community.
For more information visit the Bike Newport website at www.bikenewportri.org