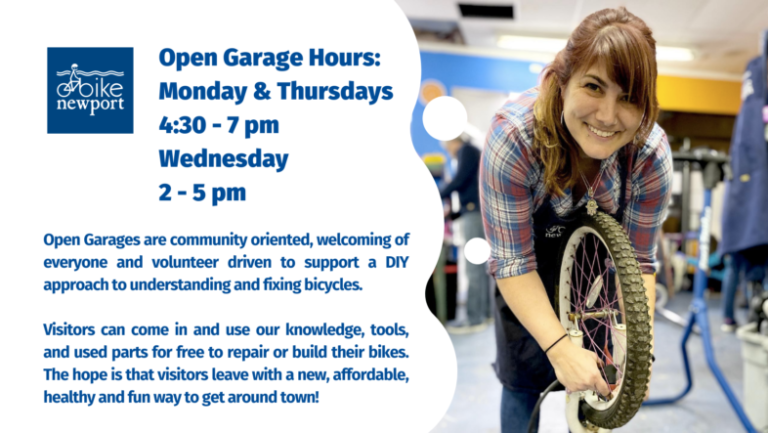 The Open Garage – where staff, volunteers, and bike riders gather to help one another repair and restore bicycles – has NEW hours:
Mondays and Thursdays from 4:30-7:00 pm
Wednesdays from 2:00-5:00.
Located in the back of Bike Newport's headquarters at 62 Broadway in Newport, the Bike Garage is traditionally a bilingual gathering place for everyone who has, loves, wants to fix, and/or wants to learn about bikes.
While COVID-19 regulations have changed that dynamic by limiting the number of people who can be in the space at any given time, we have resumed hours with an inside/outside model. We can service a limited number of people at a time, while ensuring safe distancing and sanitation. Properly-worn masks are required by all at all times.
"The Wednesday daytime hours are very popular," explains Director of Education, Clare Woodhead. "We expect these hours will make it possible for more community members to keep their bikes in good working order."
Come by and give it a try!
Now you can also choose to drop off your bike for expert repair at The Annex – next door at 56 Broadway, where our new fleet of rental bikes is also located. Learn more here.
Find out more about the Bike Garage and other Bike Newport programs along with the latest news by following Bike Newport on social media @bikenewportri and by subscribing to our newsletter here.
And always feel free to reach out to info@bikenewportri.org.