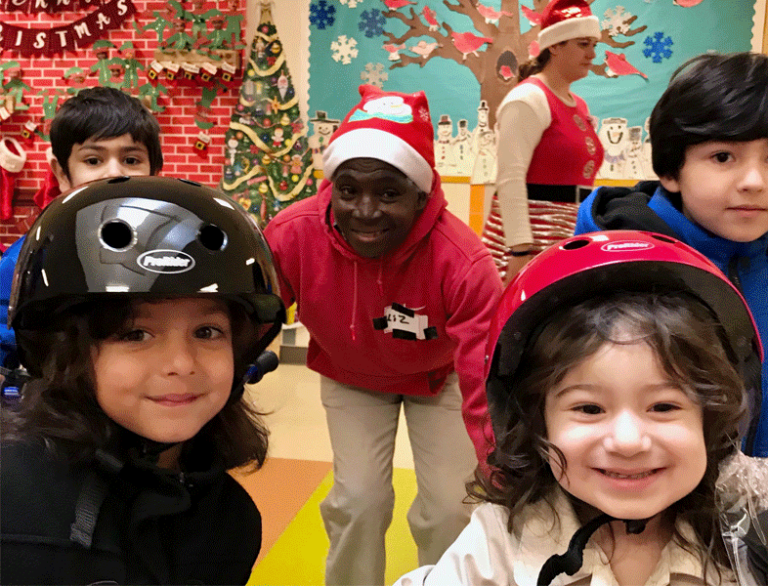 Fifty new bikes found their forever homes.
For the last month, Bike Newport's volunteer elves have been fixing, restoring and polishing dozens of donated children's bicycles – getting them ready for the annual bike giveaway at Pell Elementary School. On Saturday, smiles abounded as kids of all sizes matched with bikes of all sizes, all shiny and adorned with big red ribbons, and complemented with helmets and bells. Helmets were donated by Newport Rotary Club, whose members were on hand to share in the bike happiness. This wonderful annual happening is made possible by so many people coming together – bike donors, bike mechanics, our schools, kids and parents! Bike Newport welcomes donations of outgrown bicycles for youth year-round – promising tender loving care and new homes for all.
Check out The Newport Daily News article here.

We depend on friends like you
– who know that educational programs prepare our youth for safe cycling; that speaking to all road users leads to safer road sharing; and that smart planning considers far more than cars in our lives and on our roads. Your support helps us run programs, build bike culture, and advocate for policies that achieve the economic, health and environmental benefits of pro-bike investment.
It takes a team effort to champion change!
Volunteers, bike donors, activists, funders, and
YOU!