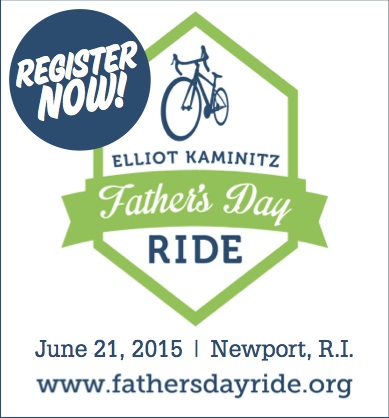 Join Bike Newport and hundreds of cyclists as we ride Newport County's scenic coastline while celebrating the life and passion of Dr. Elliot Kaminitz. The third annual Elliot Kaminitz Father's Day Ride will be held on June 21, 2015 at 8:00 a.m. With a range of distances from 6, 10 and 25 miles, riders of all levels can participate. We are also engaging young cyclists with a Kids "Tour de Fort", sponsored by the Rhode Island Department of Transportation. This youth program and activity area will be hosted inside the walls of Fort Adams State Park, which will provide a fun and safe environment for kids and parents to participate.
All three ride options start and finish inside Fort Adams State Park. Following the ride, food and beverages will be available for participants. Riders are encouraged to choose the distance that suits their abilities.
"There in Spirit": Can't get to Newport, but want to participate? Join us in spirit! Sign up and take a ride with your family and friends wherever you are on Father's Day morning. Send us a photo and/or tag the Father's Day Ride! Don't let the distance keep you from supporting Elliot's legacy of more, better and safer cycling.
This year, for the first time, no one will miss the ride for financial reasons. There is a "fee waiver request" on the registration form as well as the opportunity for riders to sponsor other riders. Everyone who wants to ride will be able to ride. Our goal is to get more families and individuals of all ages and abilities to participate and to ensure that no one is denied the chance to ride.
Proceeds from this event support Bike Newport's bicycle safety programs.
Volunteers still needed! Contact Liza.
Please say THANKS to our Father's Day Ride sponsors and community partners:
IE-Cycle, Corrigan Financial, Worldways Social Marketing, Newport Daily News, KVH Industries, Newport County YMCA, and Representative Lauren Carson. And to our community partners Empire Tea & Coffee, A Market, Panera, Newport Yogis, Hooley, Mansion Rentals, Newport Bicycle and Ten Speed Spokes.
For more information about supporting the 2015 Father's Day Ride:
Bike Newport: (401) 619-4900, info@bikenewportri.org