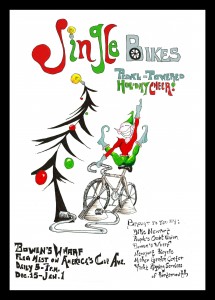 Jingle Bikes wheels are spinning from 5:00-7:00pm nightly. Come on down to Bowen's Wharf and help us keep the Jingle Bikes Tree sparkling!!
Did you catch the fabulous front page story of Jingle Bikes in the Newport Daily News?  Great fun at the opening on Saturday night with the wheels set in motion by our own Mayor Harry Winthrop and Councilor Naomi Neville.
And we just learned that Jingle Bikes made the Providence Business Journal's "Top 10 Things to Do" list for Christmas week – thanks, PBJ!
Nothing like a bike ride and great music to stay warm! We caught Common Fence Music friends, Tom Perrotti, Mike Fischman and Ed McGuirl, on video entertaining the chilly crowd on opening night.
Here's our partner schedule – come by to support all of our local organization friends. More to come! If your organization would like to help out, email casey@bikenewportri.org.
12/19 Arts & Cultural Alliance of Newport County
12/20 SVPRI Newport
12/21 Pulse Fitness
12/22 Jane Pickens Theater
12/23 Old Colony and Newport Railway
12/27 Preservation Society of Newport County
12/28 Sustainable Aquidneck
12/29 Common Fence Music
12/30 11th Hour Racing