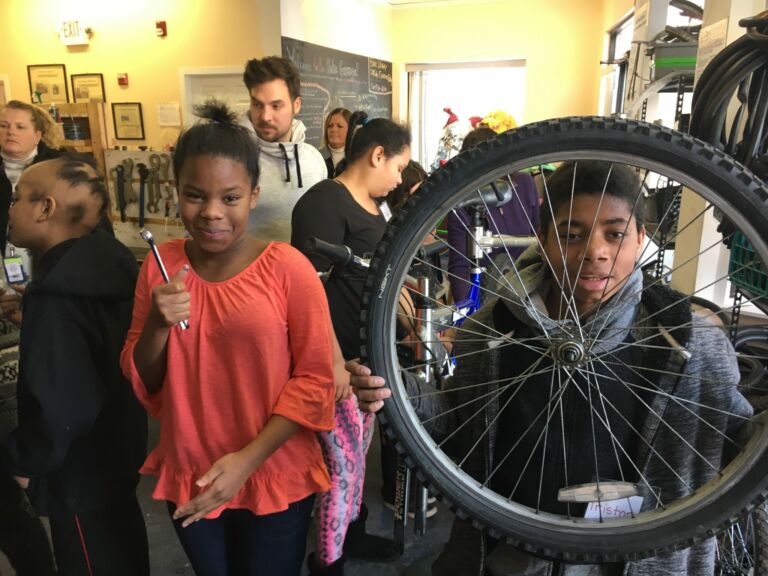 We're looking for a Program Manager, could it be you?
Bike Newport is a busy and exciting advocacy environment – with many programs to improve and encourage biking – plan bike routes, ensure infrastructure, expand education, restore/distribute bicycles, and all-in-all help get more people on bikes.
We're looking for a Program Manager – someone outgoing; confident; great with people, businesses, schools, community leaders; and super passionate about biking. This new member of our team will be an organized, motivated, forward thinking individual willing to join a passionate, bike-happy team.
This opportunity offers a curious, systems-oriented, entrepreneurial, values-driven Program Manager a chance to shape our bike education space and programs. With the building of our new Big Blue Bike Barn underway, you will be instrumental in getting its educational wheels spinning!
Requirements: – Managerial experience – be able to see big picture and align parts to optimize outcomes. – Confidence on reaching out to businesses, schools, and community leaders – A combination of love and discipline – setting expectations and holding oneself and one's team accountable. – An ability to get things done, be accountable and report in without reminders. – Knowledge to establish and run systems for tracking and reporting. – A distinctly positive personality, with the ability to convey enthusiasm. – Detail-oriented and organized, able to work multiple projects. – Understanding that bikes are part of the solution – to health, equity, mobility, etc.
If you want to join the growing bicycle movement by training new educators, leaders, interns, mechanics and have what it takes to organize, motivate and enthuse, we'd like to meet you! Speaking Spanish is big plus.
For more details: Program Manager Job Description. Please send cover letter and resume to info@bikenewportri.org