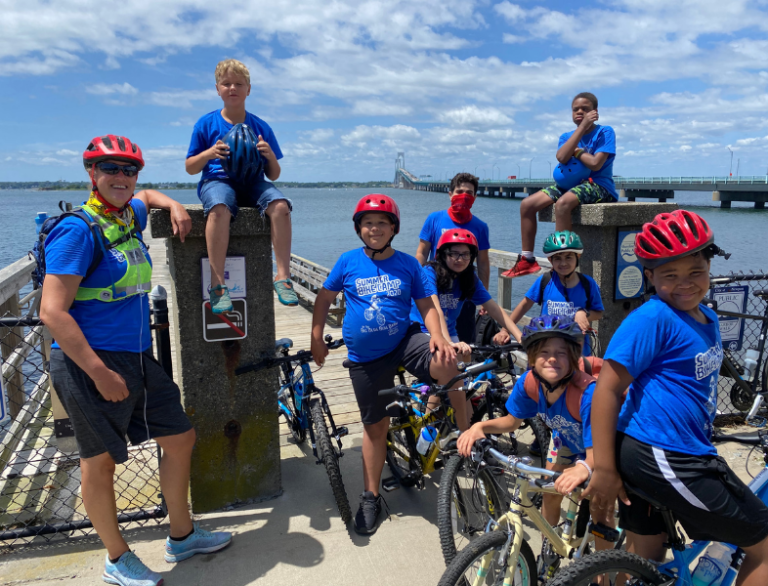 Summer Bike Camp 2021 is open to Newport children ages 8-13. The Big Blue Bike Barn campus next to beautiful Miantonomi Park is our base for the summer, and our staff comes with an expertise and love for biking that delivers a safe and fun time for everyone. Bike Camp is a one-week program weekdays from 9-3pm. We have six one-week sessions starting July 6th. We provide the bikes and helmets needed to participate. At our Summer Bike Camp, participants spend a fun-filled week learning about:
Bike handling and bike safety skills, basic bike maintenance
Trail and road riding skills
Scheduled 'specials' with community partners.
Our weekly Summer Bike Camp is made possible thanks to Powered by Prince and other generous supporters. Our camps are free for the youth of Newport with a focus on children from families with financial challenges. We welcome all participants to contribute what they can from $0 to $500 per week. All donations help to offset the costs of camp and our other programs.
Every child will send us a letter, a picture, a story, a video – however the child wishes to express their interest in attending Bike Camp. This submission should be sent with their application to Camp Director Clare Woodhead: clare@bikenewportri.org. Find out more here.
Apply Now (English and Spanish)
To print a paper copy in English , click here
To print a paper copy in Spanish, click here
We are grateful to Powered by Prince – the FH Prince Memorial Fund of Newport Hospital –  and numerous other donors for the support that makes Summer Bike Camp available at no cost to our community youth. If you'd like to support this program, please contact our Executive Director, Bari Freeman. Thank you!