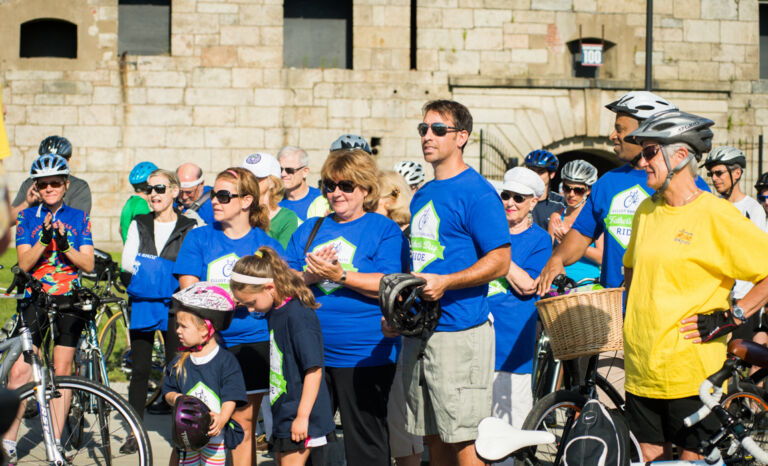 The Elliot Kaminitz Father's Day Ride 2016 – Register HERE.
A community ride for everyone – in support of more, better, and safer biking
By Renee Kaminitz
For many years, my husband found joy riding his bicycle from our home in Middletown into Newport, and south around the Ocean Drive. In his early retirement, Elliot made this trip day after day when weather cooperated, stopping to chat with friends at scenic spots along the way, philosophizing about life and solving the world's problems, all while he enjoyed the majestic scenery and breathed the salt air. Elliot loved biking and he loved Newport. Truth be told, Newport loved Elliot back. He was a popular man and a much loved local dentist.
As many of you will remember, Elliot lost his life doing what he so enjoyed, riding his bike along Memorial Blvd with the ocean to his left and the reservoir to his right. The helmet he wore religiously would have limited his injuries in a less severe crash, but it couldn't save his life. That non-existent shoulder is now a dedicated bike lane, and adjacent motorized traffic is calmed by narrower lanes and better vehicle positioning. Elliot would have approved. He would have also approved of the white riderless bike that honors him while it reminds people to take care and look out for one another on the road.
Elliot really cared about bicycle safety. For this reason, my family remains committed to ensuring that conditions continue to improve for bicycles and for all users of Newport's streets. Bikes, pedestrians, and cars all need to exist safely together. Since Elliot's death, we have helped to raise funds and awareness for bicycle safety education programs by supporting the work of Bike Newport – our partners in creating a legacy of more, better, and safer bicycling.
This Sunday is the fourth annual Elliot Kaminitz Father's Day Ride.  It's a day that brings everyone, families of every size, shape, and definition, out to ride the roads together, to experience the joy of biking along the ocean, and to raise more funds to improve biking in Newport.  The day, the event, and the funds raised mean a great deal to me, and to my family. We look forward to this day all year.
Please join us! More than anything, we want dozens and dozens of people to get out and ride. We want to claim the Ocean Loop for bicycles, for children, for adults, for friends and families. The six-mile loop is fantastic. Coned off from traffic and escorted by the Newport Police, it's the perfect ride for the less-experienced cyclists. For so many every year, it is their wonderful first ride along the ocean. Others ride 10 or 25 miles. And many walk the two-mile Harbor Walk around Fort Adams. Young children ride the "Tour de Fort" course inside of Fort Adams. The day is full of options, celebration, entertainment, and refreshments.
This year we are ensuring that everyone who wants to join in can do so without worries about transportation, and without worries of financial constraint. Some people will choose the "Waive my fee" option and pay nothing. Others will choose "I'd like to give more" and increase their donation. It's up to you what you'd like to give. The most important thing is to support bike safety by joining the ride.
Thanks to our partners at the YMCA, we also are introducing busses this year. Two busses will pick up participants and their bikes (a van will hold the bicycles) at ten different stops islandwide. Check the Bus Route locations and schedule on the event web site:elliotsride.org.
Sunday looks to be a beautiful day. Consider starting the day with a bike ride with your friends and family. Or ride solo and make new friends. Come to Fort Adams for the 8:00am start. Come early for a sun salutation yoga stretch and for bagels and coffee. End your ride with refreshments, music, and a complimentary massage.
Register HERE. Information at elliotsride.org.  If you have any questions, email tracy@bikenewportri.org.
I know my family shares my sentiments – my heart swells to know how much Elliot would enjoy and support this event, and the important work of Bike Newport and the YMCA to make cycling safer and more common.
See you on Sunday!
* * *
Renee Kaminitz lives in Middletown. She is a former teacher and librarian in the Middletown Public Schools. She is the mother of Adam Kaminitz and Ilicia Strasser, and grandmother to Zoey and Sydney Strasser. Renee serves on the Board of Bike Newport.