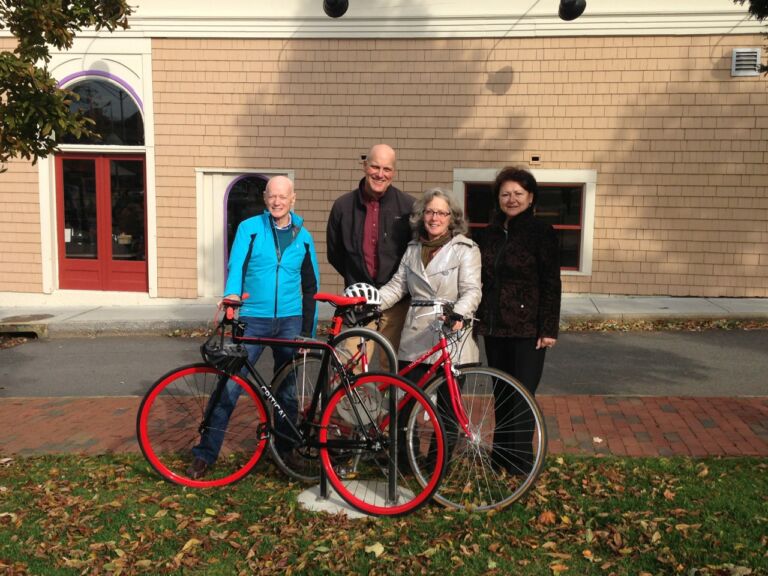 ^ People's Credit Union sponsored their first bike hitch in 2011, and their second in the new Queen Anne Square. Shown at the new bike hitch are (l-r) Don Jagoe, cyclist and bike hitch sponsor; Scott Wheeler, City of Newport Building and Grounds Supervisor / Tree Warden; Bari Freeman, Executive Director at Bike Newport; and Marie Everett, Newport Branch Manager, People's Credit Union. (photo courtesy People's Credit Union)
---
As more people opt to pop out of the car and into the bike saddle, the search for bike parking in Newport is on. There are only so many signposts that can double as a bike hitch. Bike Newport and the City's Department of Public Services are looking for ways to increase bike parking options. In the process, the commitment is to install racks that respect the bikes, the cyclists and the properties. No more wobbly school racks. New racks will meet the Association of Pedestrian and Bicycle Professionals (APBP) Bicycle Parking Guidelines – providing two points of contact for any bike to hold it stable. Bike parking will be a combination of bike hitches that generally hold 1-2 bicycles, and higher capacity racks, that hold upwards of six bicycles.
The City has already installed new racks at Scotts Wharf, Storer Park, Queen Anne Square, and the Cliff Walk Trail Head at Forty Steps. New racks are in place at Pell School and on order for Thompson Middle School as part of the Safe Routes to School programs. Plans are underway for racks in the new Broadway Streetscape.
Studies are proving that bikes are good for business – cycling consumers are loyal customers – returning most often and spending the most money, according to a 2009 study in Toronto, ON. Recent research out of Portland, OR, shows that cycling customers spent more money per person than their car-driving counterparts at bars, restaurants and convenience stores.
That's good news for local business – and the key to a new opportunity for bike friendly and community conscious businesses and individuals to get on board. Fifteen business-sponsored bike hitches were installed around the city in 2012, and now a new wave of hitches is gaining steam.  Zipcar will sponsor four hitches, decked out in Zipcar green, near the Lower Thames Zipcar location. "Many Zipcar members are also avid bicyclists," remarked Chris Moulding, Zipcar's manager in Providence. "With these sponsored bike racks in Newport, along with the convenience of Zipcar, members will have easy access to more sustainable transportation options when they need them."
Of four bike hitches installed at Queen Anne Square, two are sponsored, one by People's Credit Union, and one by Brian Hennessey – former People's CFO and former Board Member at Bike Newport. Hennessey made the rack a parting gift when he relocated to San Jose, California. "People's sees the racks as direct community service, and as a way of demonstrating support of our cycling clients. It's a program we are all thrilled to get behind," explained Marie Everett, People's Newport Branch Manager.
Bike Newport hopes that as the racks pop up, so will more and sponsors. That's just what happened with Newport resident and cycling enthusiast, Don Jagoe.  Don saw the People's racks and immediately contacted Bike Newport to sponsor one himself. "The fact that part of the funds support Bike Newport's programming is icing on the cake," he shared. "Every time I see our youth engaged in bike mechanics and bike skills training, I'm happy. These programs are opening the world of health, freedom and confidence to our kids at an early age. And I get to request a rack close to my favorite shops. Works for me!"
The sponsored hitches are available at a cost of $500 – with $375 paying for the hitch and sponsorship plaque, and the balance supporting Bike Newport's bicycle education initiatives in Newport. Higher capacity bike racks can be sponsored as well.
Businesses and individuals interested in sponsoring a bike rack can find more information here – or call (401) 619-4900.