Cycle Mallorca with Bike Newport
October 5-10, 2024 New Date!
Discover this beautiful Mediterranean island with Bike Newport accompanied by expert bike guides as well as Bike Newport's senior staff.
Mallorca astounds with picturesque routes, dramatic scenery and Mediterranean autumn weather. You will be spoiled with an unrivaled cultural experience and culinary delights!
This island has it all, especially its varied world class cycling. This is the place where professional cyclists and amateur enthusiasts come from all over Europe and the world to train throughout the year.
Known for 320 days of sunshine yearly and miles of quiet picturesque roads, Mallorca is often described as having the best riding conditions in the world – along the coast, in the plains, and through the mountain landscapes. Join us!
Proceeds from this tour will support Bike Newport's education and advocacy programs!
Trip highlights include
A visit to childhood house and museum of Fra Junípero Serra
Ride some of the classic climbs of Mallorca including the Cap Formentor
Cycle along the Sierra de Tramuntana, UNESCO World Heritage
Staying in beautiful Mallorquin hotels located in charming villages & enjoying the gastronomic richness of Mallorca
Kayaking in Port de Soller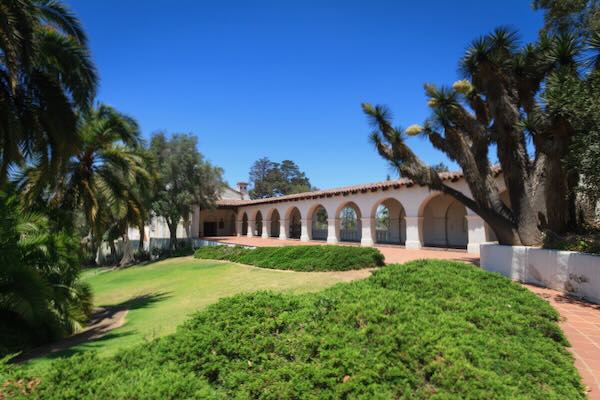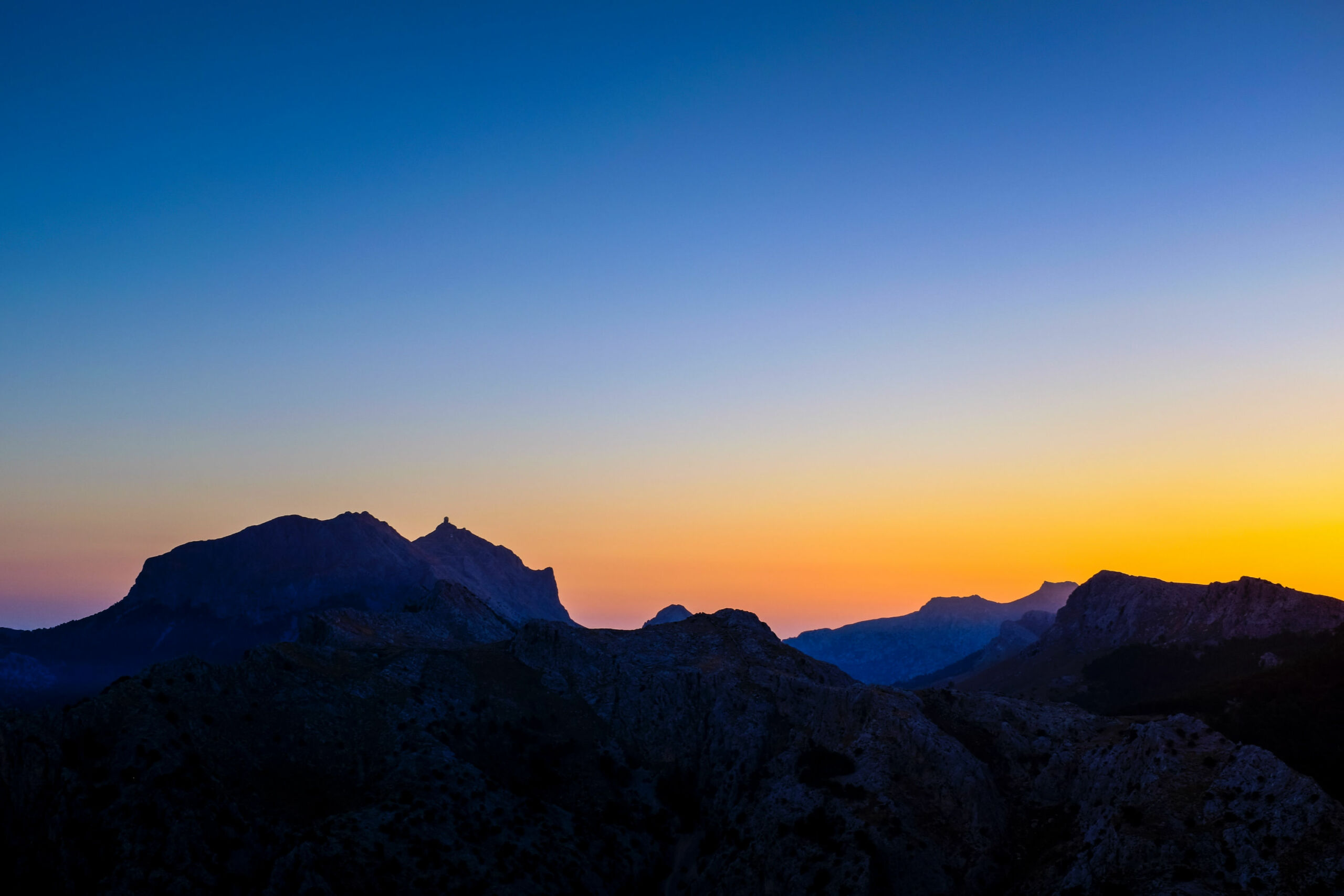 About the Ride
Our daily plans range from 12-46 miles a day with stops for visits and refreshments. By the time of the ride, you will need to be comfortable riding up to 45 miles with some rolling hills. If you are not yet trained for these distances, start to train on the road close to home now. You need also be comfortable sharing some roads with cars, though Mallorcan drivers are very accustomed to bicycles and very polite – it is one of the favorite bicycling destinations of the world!
Si hablas español, maravilloso! If not, we recommend you learn some converational Spanish to best enjoy and be enjoyed! We're planning a local gathering of tour participants in Newport this summer to meet, greet, sip Mallorcan wine, and practice conversational Spanish together.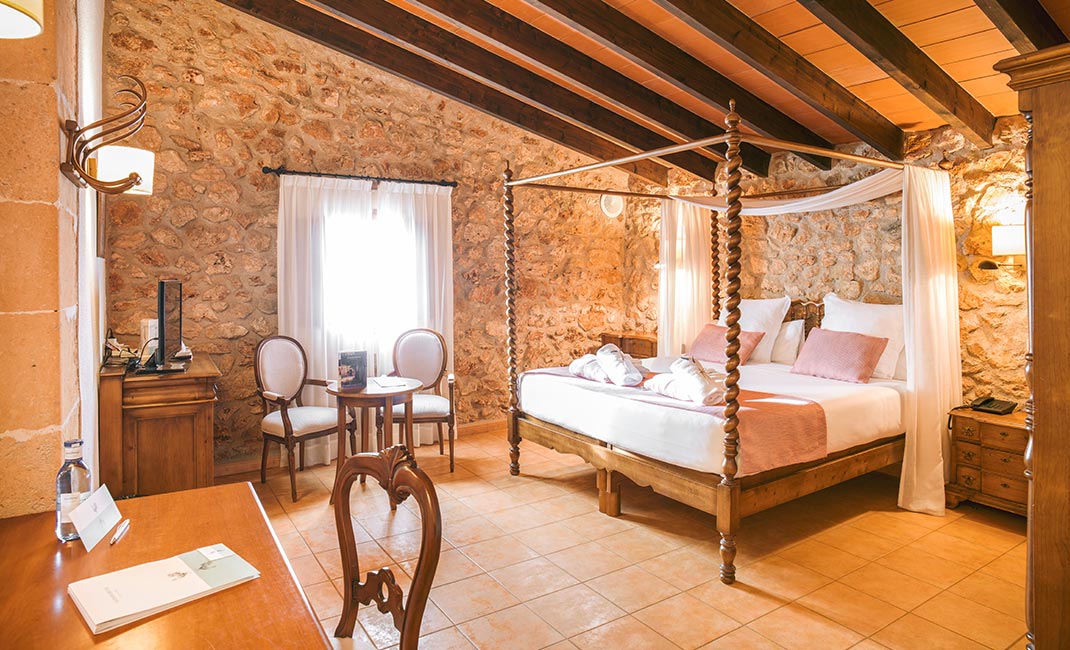 We are very excited about our 4-star hotel accommodations – and we know you will be, too. They are all beautiful! The rooms are available in three configurations which can be reserved by one or two people. When you register, you will be asked to choose your configuration for each hotel based on the rooms available at that hotel and they will be assigned in the order that you register.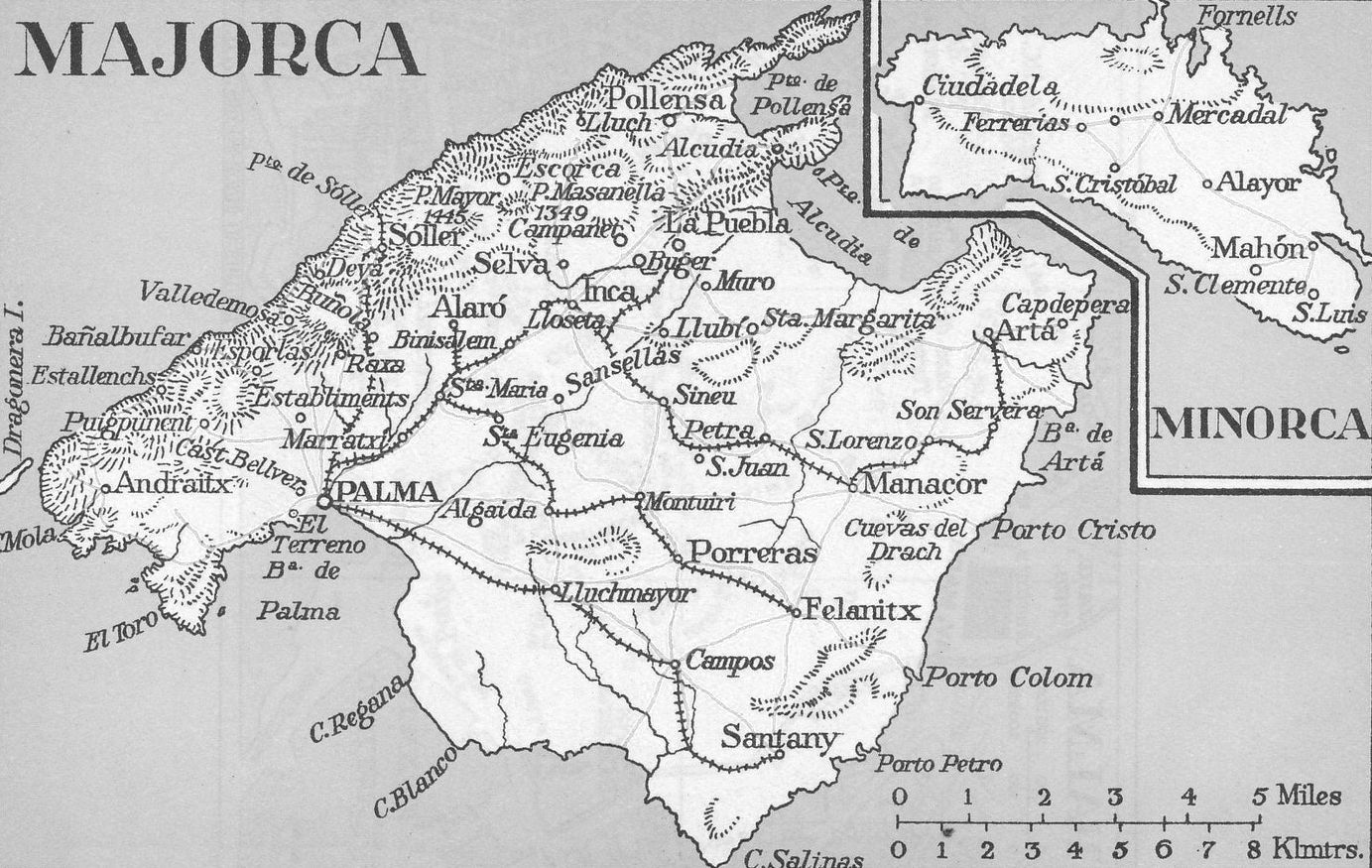 Our Route
The rides are long enough to cover many villages and short enough to treat all of your senses along the way.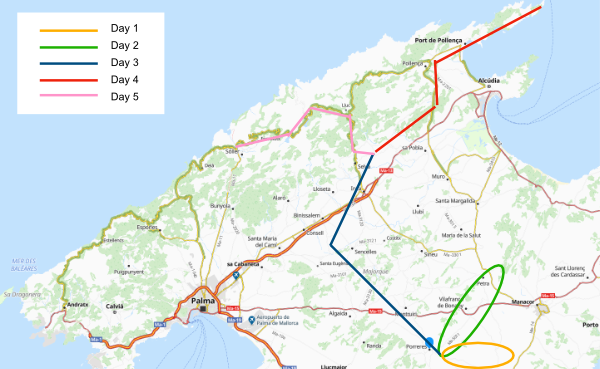 The Rolling Plains of Mallorca. Days 1-3
What better way to warm up to this beautiful Mediterranean island than to explore the central plains with pleasant rides through picturesque, tranquil villages and flourishing wine regions known as Binissalem and Pla i Llevant.
You'll quickly realize that this area is not just for professional cyclists but for all two-wheelers of every riding style! Quiet country roads and bike paths get you wherever you want to go, from finca to plaza.
Our home away from home for the first two nights is the cozy-chic boutique hotel Sa Bassa Rotja. A great starting point for our rides in the southern part of the island.
We'll venture up to the 17-century hilltop chapel of Bonany, and enjoy sweeping views before descending to the town of Petra. We'll spin through the quiet streets of Petra's historic center, and reach the museum and birthplace of the complicated historical figure, Junípero Serra. Serra started 21 Franciscan missions in California and is credited as the Father of California wine. A visit to the home where Serra spent his childhood offers a window into the way of life in 18th-century Mallorca.
Day 1
20 km/12.4 mi
100m climbing
Day 2
42 km/26 mi
288m climbing
Day 3
45 km/28 mi
153m climbing
---
The Shimmering, Glimmering Mediterranean Coast. Days 4-6
After warming up on the gentle hills of central Mallorca, we'll climb some more challenging hills of the northwestern coast, and arrive breathless from both the effort and the awe!
A gentle spin towards Port de Pollença starts our morning route towards the Cap de Formentor peninsula. Taking time to admire the endless vistas along the way, this ride will reward you with joy and adrenaline when you catch your first glimpse of the Formentor lighthouse, jutting out over the glimmering sea. From here we'll cruise back to the port for a delightful lunch as we dip our toes in the cool autumnal waters.
Our final full day presents a fun option: Will you ride the world class route over the mountains the the seaside town of Port de Soller? Or will you choose to kayak around the stunning creeks, caves, and cliffs of this coastal region? After a memorable and scenic day, we'll gather for a wonderful last meal all together at the hotel's restaurant overlooking the sea. Salud!
For those who wish, the last morning can include an early ride out to Deia before returning to pack up and head back to Palma's airport.
Day 4
74 km/46 mi
867m climbing
Day 5
54 km/33.5 mi
1,078m of climbing
or kayaking
Here's what you need to know
Register soon – spots are limited
Dates: October 5-10, 2024
18 spots available. Once full, we will have a waiting list.
Cost: $4500/person based on double occupancy
Trip begins and ends at Palma de Mallorca airport
Travel to/from Mallorca not included
Convenient plane and ferry from Barcelona to Mallorca
5 nights in 4 star hotels ⭐️⭐️⭐️⭐️
Includes 4 dinners and 2 picnic lunches
Add $750/person for single occupancy
Includes road bike and mechanic support – Add $120 for upgraded road bike with higher performance components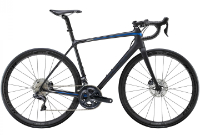 How to Sign Up
Fill out this registration form. Please fill out a separate registration form or each person.
Pay with credit card on the registration form, or send a check for $1000/person, payable to Bike Newport, 62 Broadway, Newport, RI 02840.
The balance of your registration will be due by June 8, 2024.
Cancellation Policy
Full refund up to July 6, 2024
75% refund July 7-August 3, 2024
50% refund August 5 – September 7, 2024
No refund September 8 and after
Questions, please contact Camille Dumont, Tour Coordinator, camille@bikenewportri.org.
About Bike Newport's Tours
The 2022 tour of the Provence region of France was a smashing success! Participants ate, drank and biked through some of the most picturesque countryside Europe has to offer.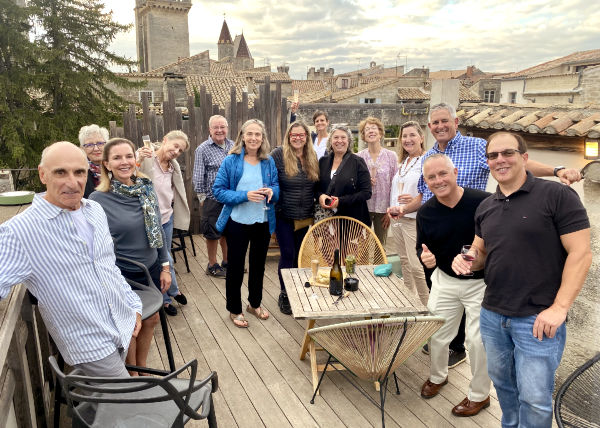 "The beauty exceeded my expectations. Bike Newport planned everything perfectly – from the trails we rode, the accommodations we stayed, the bikes we rode, to the restaurants where we ate." – Tricia
"Met new nice people with a shared interest. I liked that we stopped in villages and had time to explore them. Group dinners and receptions were fun and especially the group introductions on the first evening." – Anthony
"It was wonderful. Very well planned, delightful accommodations, delicious meals and excellent travel companionship." – Larry
All proceeds from your tour directly support Bike Newport's bicycle advocacy and bicycle safety education. Thank you!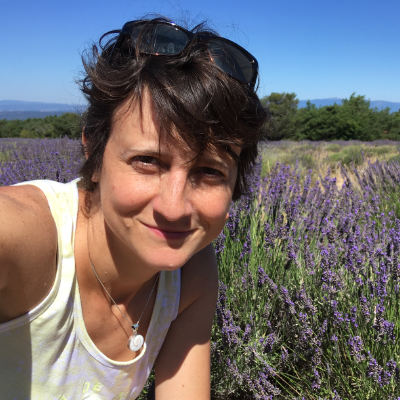 Meet Camille – Tour Coordinator
Our planner and tour guide, Camille Dumont, has been cycling throughout Europe and leading bicycle tours worldwide for decades – including Mallorca!
After living in Europe for many years, Camille returned to Newport, where she now spends most of the year, enjoying many fun family rides with Bike Newport and all around New England, and running a wine importing business with her husband.
Camille is excited to bring her expertise to Bike Newport's annual bike tour – helping many more people to enjoy the delights of bike touring while supporting the good work of Bike Newport!
Meet Bari and Allyson – the Bike Newport Tour Team
Joining us from Bike Newport are Bari Freeman, Founder and Executive Director, and Allyson McCalla, Director of Operations and Administration.
Bari is a bike tour enthusiast, often solo, with self-made adventures in the US, Canada, and around Europe – but never Mallorca! Since founding Bike Newport in 2011, she's been committed to building bike culture and making biking better through education, infrastructure, and community programs.
In addition to overseeing Bike Newport's facilities, HR, and administration, Allyson is a bike marshal, bike mechanic, and bike educator. She brings her magnetic bike enthusiasm statewide as the coordinator of Rhode Island's first chapter of Black Girls Do Bike – coordinating rides and multi-day adventures.