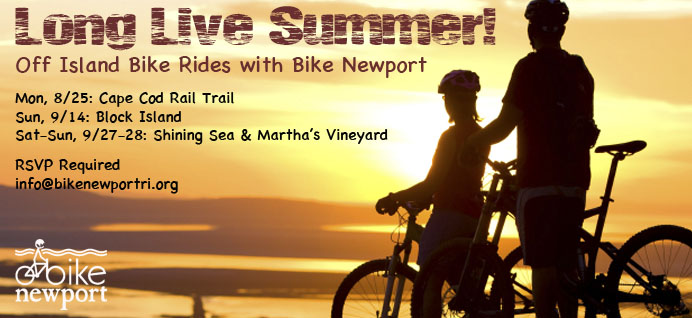 Mark your calendars now! Keep summer going and legs pumping by adventuring with Bike Newport to some of the best bicycling destinations in New England.Note: RSVP is REQUIRED for all rides at least one week prior. RSVP on
Facebook
,
email
us, or call (401) 619-4900.
Monday, Aug 25th:
Cape Cod Rail Trail
(play hooky from work or
 school! This beautiful path is super crowded on the weekends so we'll do it on a peaceful Monday) ~50 mile bike path ride from S. Dennis to Wellfleet. We'll stop at the Wellfleet Beachcomber for seafood and swimming!
Sunday, September 14th: Block Island. Leave on the 9am ferry from Pt. Judith, spend the day circling the tiny teardrop. ~30 miles, pretty hilly.
Saturday (and Sunday), Sept 27 (& 28th): Shining Sea Bikeway & Martha's Vineyard.
Update 9/16: this ride is CANCELLED. But we still encourage you to check out this fabulous riding destination on your own – here's information for the ferry, campground, hostel, and biking on the island. 
More details will be posted as these rides come closer. Suggested donation of $20 to support Bike Newport's educational programs.
Love Live Summer!!!