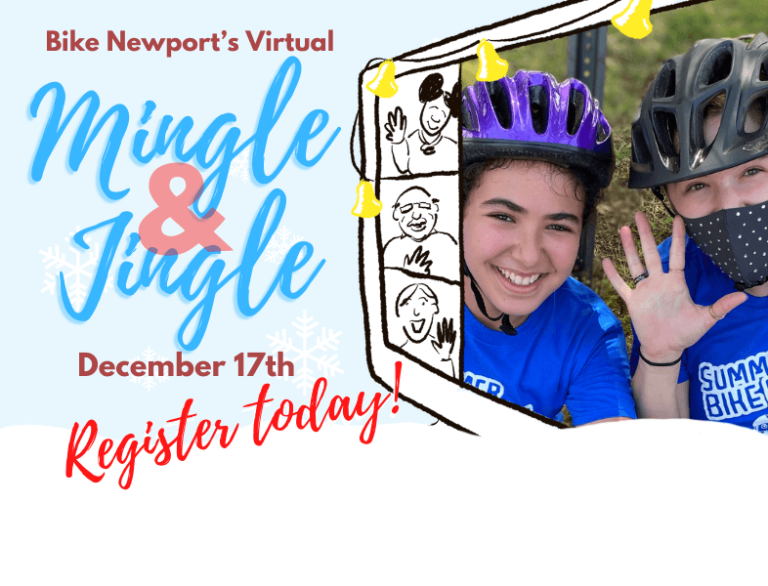 'Tis the Season to Mingle & Jingle with Bike Newport!
Join us Thursday, Dec. 17 at 7:30 p.m. for a *virtual* and *very festive* celebration and community gathering — there will be opening music, special guests, the launch of an awesome new video, DIY cocktails and mocktails (scroll down for the recipes), and all the cheer that comes with our shared love for bikes, road safety, and our beautiful Ocean State.
Music by Mel
Video Release – "Bike Happiness" by Francesco Dragone
Special Guests:
Lynn Ceglie, Vice Mayor City of Newport
Colleen Jermain, Superintendent of Newport Public Schools
Pauline Perkins Moye, Director of Social Services, Newport Housing Authority
After a quick update about 2020 progress — lots of good things did happen this year! — and plans to make our community even more bike-friendly – we'll all raise a glass of whatever makes you happy – and toast to the year ahead — 2021! Scroll down for our special cocktail and mocktail recipes from Kodi Keith of Yagi Noodles – yum!
We'll toast to: Bikes for healthy & greener living. Roads for better & safer biking. Bikes to reduce traffic congestion. Bikeways separate from cars. Bikes for better scores at school & better productivity at work. Safe routes to get where we're going. Adequate bike parking when we get there. Bikes for everyone who wants to ride. Places to build skills and confidence. Let's name it, and let's celebrate it!
Please join us for a community Zoom event (a link will be sent to registrants closer to the event). Your love and support for Bike Newport is what keeps our gears in motion 🙂
Be ready with a delicious cocktail or mocktail with that bicycle-friendly twist! Together we'll raise a glass in a toast to Bike Newport and a community dedicated to better biking for everyone.
Make your own special Mingle & Jingle Cocktail – thanks to our friendly Cocktail Crafter, Kodi Keith! Kodi is co-owner of the fabulous Yagi Noodles at 580 Thames Street. Watch for Yagi's re-opening in January. Thanks Kodi!