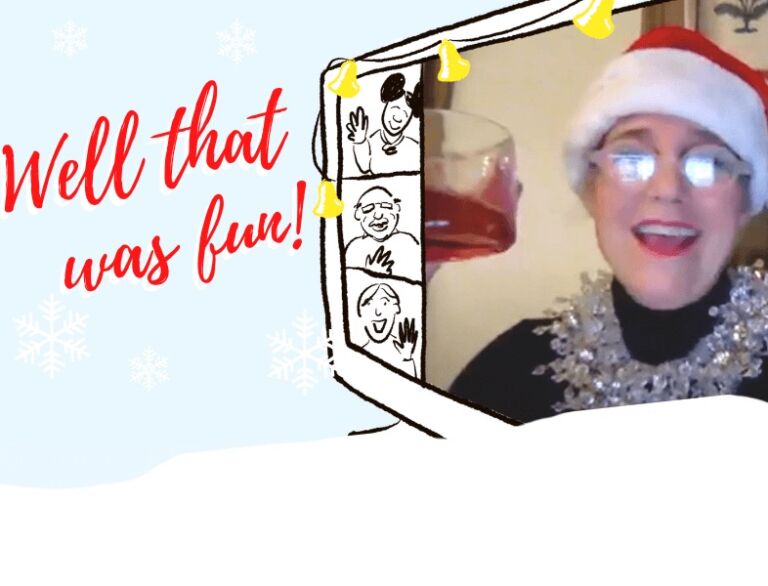 ICYMI click here for the instant replay.
And see our new video "Bike Happiness" here.
Well that was fun!!
The 2020 version of our annual holiday party was full of so much cheer and left us feeling even more grateful for our bike community. Our virtual gathering began with holiday music by MEL followed by introductions by Board Chair Valerie Larkin; raised glasses full of our custom cocktails and mocktails (recipes courtesy of Yagi Noodles), release of our new video, "Bike Happiness," by Francesco Dragone; and words from our special guests: Lynn Ceglie, Vice Mayor, City of Newport; Colleen Jermain, Superintendent of Newport Public Schools; and Pauline Perkins Moye, Director of Social Services, Newport Housing Authority. 
We nearly teared up when Miss Pauline shared that she wished Bike Newport existed when she was kid. She went on to say that we always "meet the challenges head on," like how we still pulled through and offered our inaugural bike camp this summer at the Big Blue Bike Barn, and how our programs there help young people build character while learning how to ride safely. Seeing kids riding around the North End neighborhoods, smiling and laughing and having a good time, "puts a smile on your face," she said. We couldn't agree more. 
Vice Mayor Lynn Ceglie also praised our programs at the Big Blue Bike Barn, where we've turned a vacant lot into a vibrant and active community space. "One day, Bari took me over to see where residents have access to bikes and bike safety education," she shared. "We need safe places for kids to have fun and I can't think of a better project to meet that huge need."
"Just giving the children in Newport a bicycle has opened up their world. We've got to support Bike Newport because we need it here for a long time," said Colleen Jermain, who told those gathered about our partnership with Thompson Middle School students and our efforts to teach bike mechanic skills to city youth. 
We premiered our new (4-minute) video – Bike Happiness – by Francesco Dragone – featuring the people of Bike Newport sharing what makes us tick. Enjoy! (And while you're on that YouTube page, subscribe to our channel. There's plenty more bike happiness there.)
We raised our glasses to plans for the year ahead: More and better bikeways around Aquidneck Island, especially bikeways that will enhance equity and connectivity in Newport's North End, and the urgency around separating bikes from cars. 
One partygoer left us this message in the comments, a reminder of why we do what we do: "I live in Newton, MA and am a summer resident of Middletown. I have brought my bike to Bike Newport for adjustments and have taken the Full Moon rides. I am very impressed with this organization, which is why I am here this evening." We are grateful for all of our supporters and are excited to do more in 2021 to make biking in our beloved Ocean State even better!
City Councilor Angela McCalla demonstrated our awesome infinity fold mailer – which lots of folks played with during the Zoom – watch Angela's "tutorial" here. And if you didn't get one in the mail – be sure to send Allyson your address and we'll get one out to you spit spot. Thanks again to our friends at Standard Modern –  Reynolds deWalt for again donating design, printing and postage. We are SO lucky to have such generous friends!
By the time we wrapped up, the evening's donations totaled $3,625 — all of which will be matched – huge thanks to a matching donation from a long-time supporter. We're almost $18,000  on our way to our now $35,000 match – and every donation going forward through 12/31 continues to be doubled!
To make a donation to Bike Newport in support of our programs and community initiatives, please click HERE. 
As always, it's community members like YOU who help keep our gears in motion — THANK YOU!