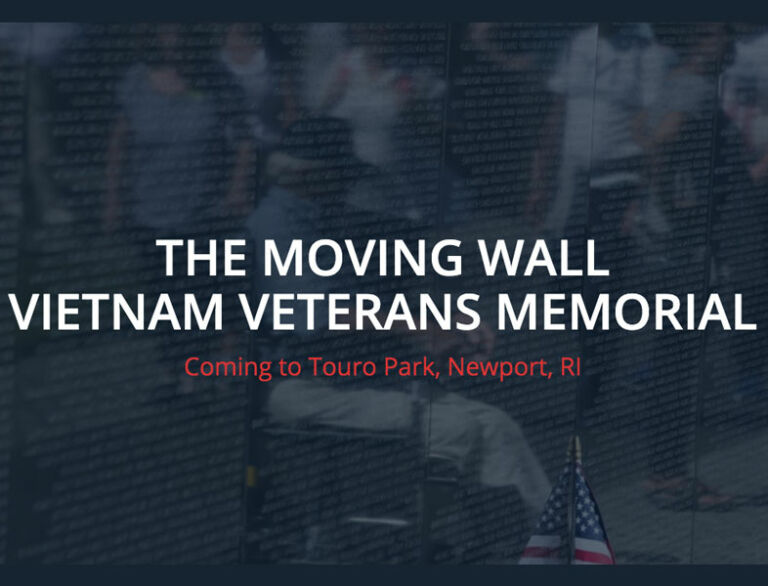 There are still plenty of events to bike to in Newport this fall, like this one, the Moving Wall Newport Vietnam Veterans Memorial.
Memorial Funeral Homes has lead a community effort to bring recognition for our Veterans after being approached by local Vietnam Veteran Paul Croce about the different ways to be more involved with the veteran community on the island.
They're also the sponsor of our bike racks at this event. Ride there, avoid traffic, and park your bike. Thank you Memorial Funeral Homes.
Touro Park, Newport – 9/19-23
Schedule of Events
Thursday, September 19 at 9 a.m. Processional Order of March. An escort of the Moving Wall from Middletown into Newport, led by local police departments and veterans motorcycle groups. Upon arrival, we will have a blessing ceremony, followed by the assembly of the Wall onto it's foundation for the next four days.  Thursday's events will conclude with a candlelight vigil at 7:30pm with music, the Old Glory Flag Ceremony, a KIA remembrance with the reading of names of the RI Veterans killed in Vietnam.
Friday, September 20, Opening Ceremony will begin at 10:30 and include music, a Proclamation by the City of Newport, and speakers sharing their perspective and experience as Vietnam Veterans, including Former RI Chief Justice Frank J. Williams, and Senator Sheldon Whitehouse, speaking about his experience living in Vietnam.
Saturday, September 21, 12:00 noon, a lecture about the Army Corps of Engineers. Beginning at 1:00pm, the US Vietnam War Commemoration Recognition Ceremony, including a Proclamation by the Town of Middletown, the Soldiers Cross ceremony, and reflections on their service by Peggy Zarek, Dan Thurston and Daniel Evangelista.
Sunday, September 22, 1:00pm, the US Vietnam War Commemoration Recognition Ceremony, including a Proclamation by the Town of Portsmouth, and reflections on their service by Frank Grzyb, Ken Garthee and John Ciummo.
Monday, September 23, The Moving Wall Closing Ceremony will be led by music from the Navy Band Northeast, and a reading from Rudy Borgueta and other veterans. The ceremony will conclude with a benediction, and then volunteers will help return the Wall to it's truck before departure.
Participants and times subject to change. All events will take place in Touro Park unless weather dictates otherwise.  Alternate locations are provided by Newport Elks Lodge and Channing Memorial Church.