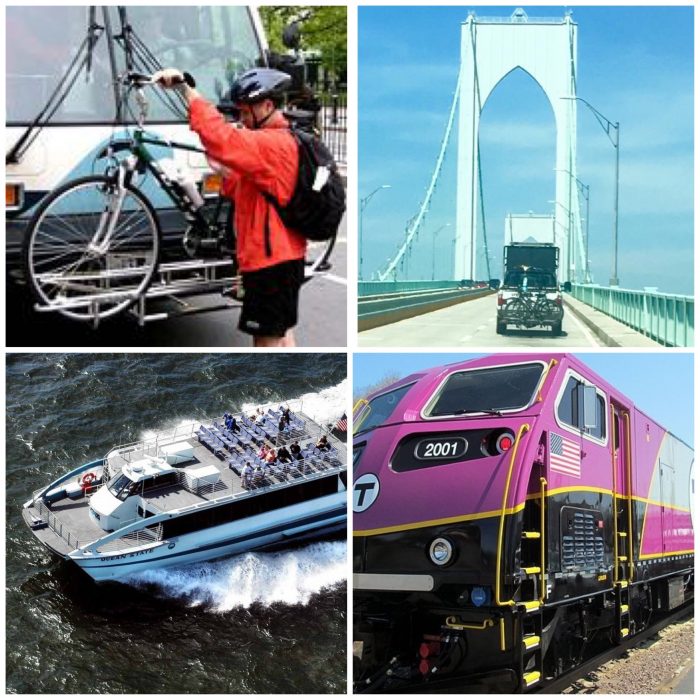 Meet the newest member of Rhode Islands effort's to be more multi-modal, the RI Bridge Bike Shuttle.
Last weekend, the RI Bridge Bike Shuttle had it's inaugural voyage with much success. Now getting from Boston – Providence – Newport – Jamestown – Wickford, or east to west has been made a little bit easier, and way more fun! And thanks to a host of generous bike-friendly local businesses and agencies interested in getting you where you're going – the shuttle service is FREE. You've got every Saturday between now and October 13th to give it a go and we'd love to hear what you think. Tag us in your photos @bikenewportri and #ribridgebikeshuttle
Make your reservations here (recommended) 
Thanks to a host of generous bike-friendly local businesses and agencies, interested in getting you where you're going –  RI Turnpike and Bridge Authority, Discover Newport, YMCA, Preservation Society of Newport County, Reynolds DeWalt, Standard Modern Company, VHB, Barnum Financial Group, AAA NorthEast, Newport Restaurant Group and People's Credit Union  – the shuttle service is FREE. These businesses understand the economic, tourism, health and environmental benefits of biking – and of happy bicyclists – thanks to all!
Here's what long-time bicycle advocate Barry Schiller suggests about using the various modes to getting around without a car in Lil Rhody:
This shuttle service is supplemented by bike racks on RIPTA's Route 64 going between Newport, Jamestown, URI and the Kingston RR Station at least 3 times each way 

on Saturday

 (leaves URI for Newport 

10:59am

, 

1:12

, 

3:27

, 

5:37

) Its not free, it will cost most $2, no extra charge for bikes.  There are also 10 trips each way weekdays.  See www.ripta.com
Another bike opportunity to Newport is the Seastreak Newport-Providence ferry.  Most days thru 

October 8

 boats leave Providence at 

9am

, 

noon

, 

5:30pm

 for the 1 hour trip, return from Newport at 

10:30

, 

1:30

, 7, supplemented by RIPTA's frequent #60 Providence-Newport line.  Ferry fares are $10 each way, $5 for seniors/disabled, no charge for bikes, parking at the Providence ferry landing, and for a bus shuttle from the train station/downtown to the ferry landing.  Seastreak also provides daily bus shuttles between Providence and New Bedford where they have boats to Martha's Vineyard and Nantucket.  See  www.seastreak.com
Another opportunity this summer to not use a car is the MBTA's $10/weekend fare good all weekend on all the commuter train lines, all zones thru 

September 2

.  There are 9 trains each way between Providence and Boston, 7 each way 

on Sunday

 and they all take bikes.  The Charles River bikeways are easy to reach from Back Bay station!  See www.mbta.com 
Finally remember RIPTA bus bike racks as the buses go to the East Bay Path (#32, 33, 60), to the West Bay path (13, 17, 30, 31) South County (64, 66)  Blackstone (71, 75  ) as well as destinations such as Slater Mill, Narragansett Beach, URI, TF Green, So Attleboro train station etc.