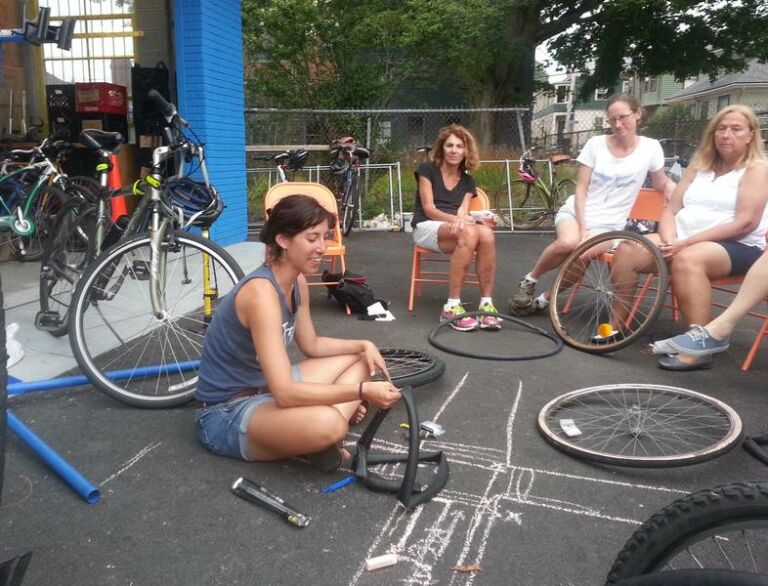 We are happy to announce our upcoming classes and Full Moon Rides, available to you for free – Sponsored by AARP Rhode Island. You can register to a class or ride by following the link to its Eventbrite page:
Confidence building for new and returning riders.
Mondays at 5pm: 7/27, 8/10, 8/24
Do you want to hop in the saddle but have a few worries? Gather with other new and returning riders to chat about riding, get excited, overcome concerns, improve confidence, and get on the road together. Nothing like the motivation of friends doing it together. We'll start each session chatting, and end each session riding – together!
before the Full Moon Rides
There's nothing easier and more empowering than knowing how to fix your own flat. PLUS Murphy's Law says that once you know how to fix a flat, you'll never get one again!
What you'll need: Tire Levers, Spare Tube, Portable Pump, Gloves (if you prefer to keep your hands clean). Bring your own or buy a kit from Bike Newport.
Monday, August 3, 6pm
Wednesday, September 2, 5:15pm
Thursday, October 1, 4:30pm
15 miles through Newport and along the ocean coastline
Bike Newport and AARP Rhode Island are back together up for more fun and fabulous Full Moon Rides! Newport and the Ocean Drive by the light of the moon. 15-mile ride. Bring your helmet, water bottle, and lights – white headlight for the front, red flasher for the back. A meet up may take place after the ride depending if current covid regulations allow.
Monday 8/3 7pm = Full Sturgeon Moon
Wednesday 9/2 6:15pm = Full Corn Moon
Thursday 10/1 5:30pm = Full Harvest Moon
We'll meet at the Big Blue Bike Barn on the north side of Miantonomi Park. Park on Hillside Avenue.
Thanks to AARP Rhode Island for sponsoring these classes and rides!