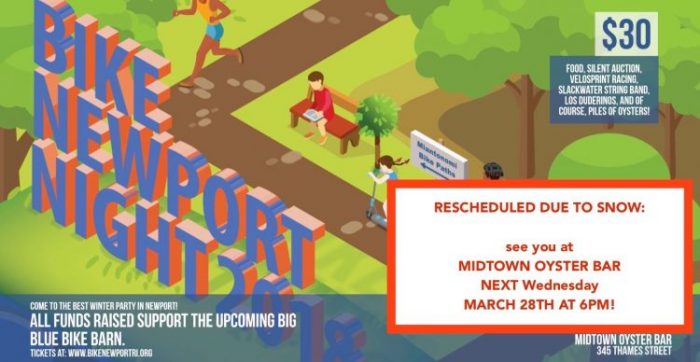 NEW DATE!!! Bike Newport Night is now 

Wednesday, March 28th
We wouldn't want a snowstorm to keep anyone away – so we're hitting our brakes and dismounting for a week – we hope you agree it's a good call – and we'll see you on Wednesday March 28th! Winter will be officially behind us and there'll be bike racks waiting for your wheels 🙂
Everything else is the same: Same great host MIDTOWN OYSTER BAR, same great time 6-9pm, same mad music with LOS DUDERINOS and SLACKWATER STRING BAND, same AMAZING AUCTION items – though that could get even better over the next week – and same celebration of bike progress!
We've got an extra week to gather more folks, more cheer, and more focus on BUILDING THE BIG BLUE BIKE BARN. Every penny raised will help us build and run program. The kids are waiting!!!
Bike Newport Night 2018 will be the best EARLY SPRING party in Newport –  See you there!