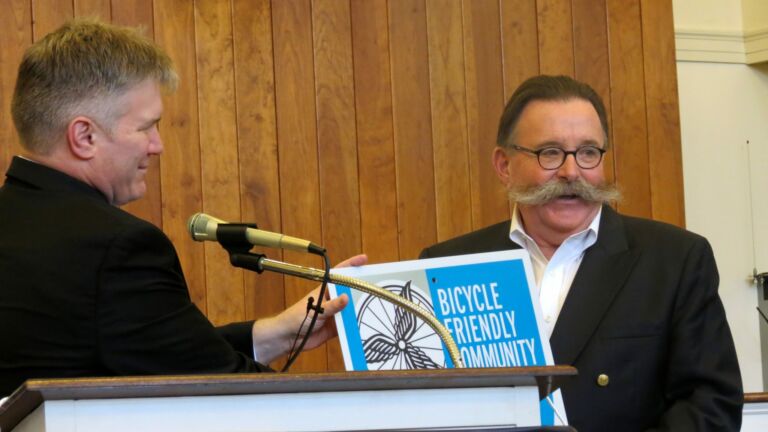 On Wednesday, November 20th, cyclists and supporters of all ages gathered at Newport City Hall to watch John Siemiatkoski of the League of American Bicyclists present the City of Newport with Rhode Island's first Bicycle Friendly Community award. This designation announces to all who reside in and visit Newport that it is a great place to ride – and getting better. What's more, Andrew Koziol, Highway Safety Program Coordinator of the Rhode Island Department of Transportation, presented citations from Governor Lincoln Chafee congratulating the City and Bike Newport on the accomplishment.
Watch the video recap Newport Becomes a "Bicycle Friendly Community" from Sky Sabin Productions:
The commemoration included many speakers highlighting different areas of Newport's journey towards bike friendliness: Bike Newport Board Member Allison McNally spoke from the perspective of "Every Cyclist"; Sergeant Christopher Hayes about public safety and new methods of cycling enforcement; Renee Kaminitz on cycling safety and community support; and five students from Thompson Middle School on why they love to ride.  See the Event Program here.
After the event at City Hall drew to a close, 26 cyclists and took a "victory lap" around downtown in the wintry sunlight – thanks to Newport Bicycle for bringing their bikes to City Hall so everyone could join in. Newport Pedicab showed its support and debuted its newest driver – Touro Synagogue's Rabbi Mark Mandel! The day ended with delicious food generously provided by The Fifth Element, a great reminder of why cyclists love to ride – to eat afterwards!
Click to see more photos of the event.
The list of stakeholders and partners who have contributed to Newport's progress toward Bicycle Friendliness is long and impressive! THANK YOU:
City of Newport, RI Department of Transportation, Newport Public Schools, Newport Police Department, Newport County Preservation Society, Newport This Week, Newport Daily News, Newport Mercury, WADK, The Boys and Girls Club, The Met School, the Florence Gray Center, the Newport Housing Authority, Discover Newport, Sustainable Aquidneck, Newport Film, Newport Folk Festival, Newport Jazz Festival, Newport Grand, Old Colony Railway, Newport Federal Savings Bank, AARP of Rhode Island, Newport Fed, Discover Newport, Gray Matter Marketing, VHB, Washington Square Roots, People's Credit Union, Narragansett Bay Wheelmen, RI Bicycle Coalition, Federal Highway Administration, the van Beuren Charitable Foundation, the Frederick H Prince Memorial Fund, Newport Hospital, Newport Bicycle, Ten Speed Spokes, Pedal Power, Newport City Council, Newport City Manager, Social Venture Partners Rhode Island, Aquidneck Island Planning Commission, Newport County Chamber of Commerce, RI Department of Management, Fort Adams Trust, Newport Pedicab, Pirate Pedicab, Salve Regina University, and many more…