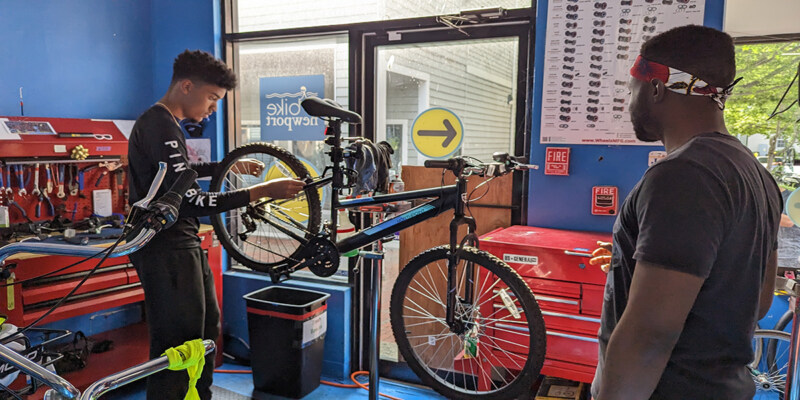 Open Garage
Get to Know Bike Newport's Open Garage
The Open Garage empowers and educates bicyclists weekly through collaborative bike repairs aided by our welcoming staff and volunteers. Participants receive active encouragement and support as they learn to maintain and repair their bikes, all for modest suggested donations on a pay-as-you-can basis.
Getting more people on bikes
The Open Garage is an essential pillar of Bike Newport's efforts to get more people on bikes, build knowledgeable bike culture, keep bikes out of landfills, and distribute refurbished bikes where they're needed most. We're proud of this program and want to ensure you know this resource is here for you – and it's here for absolutely everyone in our community. Open Garage is active 3 days per week, check hours below.
A Welcoming Space
Open Garage is a remarkable community-driven initiative that embraces inclusivity, making it a welcoming space for all. Bike Newport is proud to be certified as a Brave Space and ensure a safe and warmly welcoming environment for members of our LGBTQ+ community. We offer a monthly Open Garage session specifically for LGBTQ+ bicyclists. We also offer a monthly session dedicated to members of our BIPOC community. We frequently have Spanish-speaking staff on hand to assist as well. In everything we do, Bike Newport is intentional about making space for all to participate and feel welcome, and Open Garage is a shining example.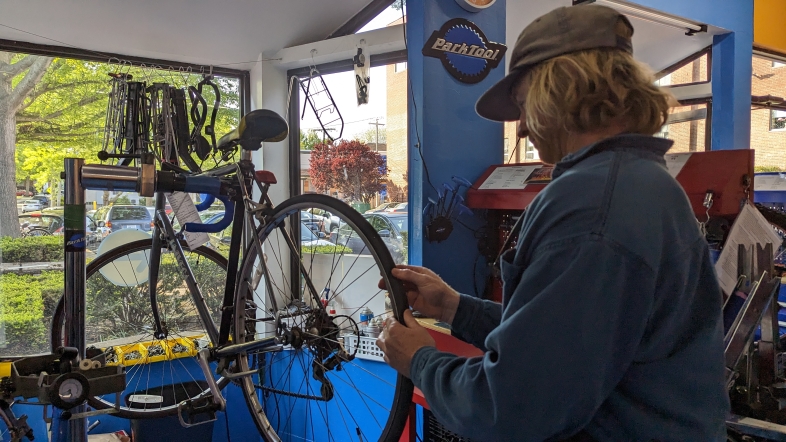 Earn-a-Bike
A core component of Bike Newport's mission is ensuring everyone interested in riding a bike can easily access a bike, and Open Garage plays an important role. Anyone aged 10 and up can participate in our "Earn-a-Bike" program by volunteering at Open Garage, and sometimes the volunteers work on (or even 'build') the specific bike they're there to earn. The whole process is fun, rewarding, and educational. Together with the Bike Library at our Big Blue Bike Barn, Open Garage is central to Bike Newport's success in ensuring equitable access to bikes and bicycling.
Here to Help
The program's true magic is found in the dedicated staff and our community of passionate volunteers who dedicate their time and expertise to assist visitors. With a wealth of experience and knowledge, these mentors patiently offer assistance and share their insights. Their dedication to empowering others sets Open Garage apart, fostering an environment of learning, collaboration, and mutual support.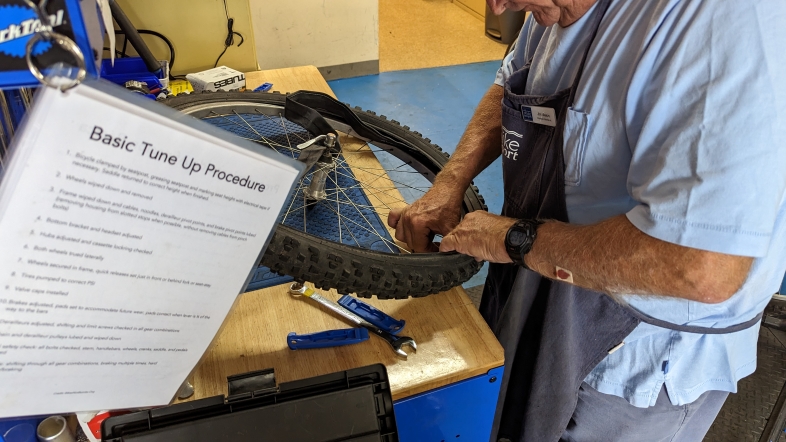 Open Garage opens up a world of possibilities, enabling everyone to enjoy bicycling as an affordable and sustainable option for recreation and transportation. Achieving a healthier and more sustainable future that includes sustainable transportation will require the power of collective action. With a spirit of community engagement and a culture of paying kindness forward, Open Garage builds a community that will lead us to a happier, healthier, and more connected society with safe biking accessible to all.
The Open Garage is located at the rear entrance of Bike Newport's headquarters at 62 Broadway. For more information, please e-mail info@bikenewportri.org. See hours below.
Bike Newport Hours & Locations
HEADQUARTERS
62 Broadway
(401) 619-4900
Monday-Friday
9-5pm
closed for lunch 12:30-1pm
COMMUNITY BIKE GARAGE
62 Broadway,
rear door
Open Garage
Monday 4:30-7pm
Wednesday 2-5pm
Thursday 4:30-7pm

BIKE BARN
20 Sunset Boulevard
Bike Library
Monday-Friday
3-5pm
ANNEX
Repairs & Rentals
56 Broadway
repairs (401) 619-4765
rentals (401) 619-4900
Monday-Thursday 9:30am-5:30pm
Fridays
Repairs 9am-5pm (PICK-UP ONLY)
Rentals 9am-5pm
closed for lunch 12:30-1pm