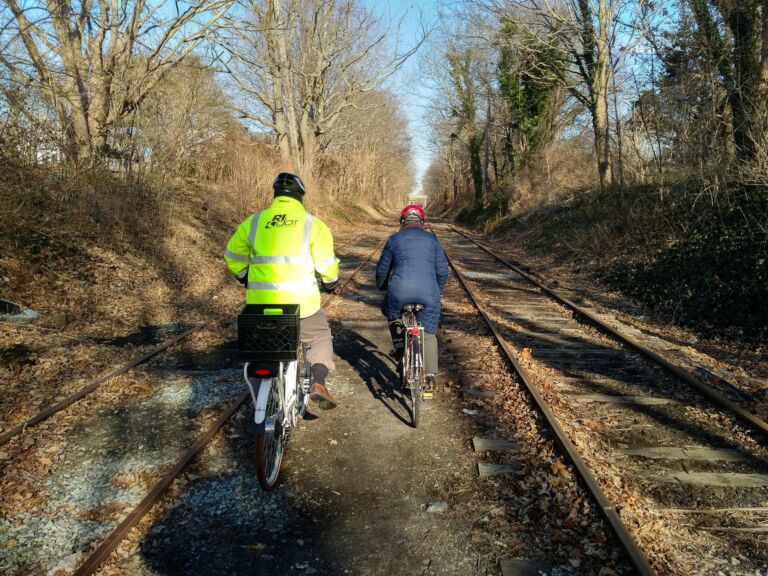 Think of a memorable walk you've had. Picture a cycle ride you enjoyed with your family or friends. I'm guessing that these weren't on or alongside a busy road.
We all need places to walk or cycle, scoot or wheel, away from the noise, fumes, stress and danger of traffic. Somewhere where we can teach our children how to ride a bike, somewhere to free our minds on our daily commute, or trip to the shops. Somewhere where we can reconnect with our surroundings, or with our friends and family. Somewhere where movement is at a human pace, and where interactions are between people, not metal boxes.


That 'somewhere' is Newport's first ever shared use path from the Gateway Center to CCRI along the rail corridor. Funded by the state's Greenway Economy Bond, It will be the first protected bikeway on Aquidneck Island and the impact will be felt from money spent in shops, and from reduced congestion on local roads as people choose to walk or cycle instead, and also the way it serves to connect people to places and, more importantly, to each other.
"It is exciting to think about the impact this project will have – from connecting communities to promoting green commuting options and enjoyment of the outdoors and beautiful Newport. The investments we're making with the Green Economy Bond are important for Rhode Island – for our environment, economy and families. And they wouldn't be possible without the leadership and strong support of community partners like Bike Newport."
– Janet Coit – Department of Environmental Management
This is why Bike Newport is working alongside the city, the state and many community organizations to deliver the 'First Mile' rail-trail path for everyone. Together, we're making progress, and together we can grow the amount of traffic-free miles.
Please visit our website to find out more.