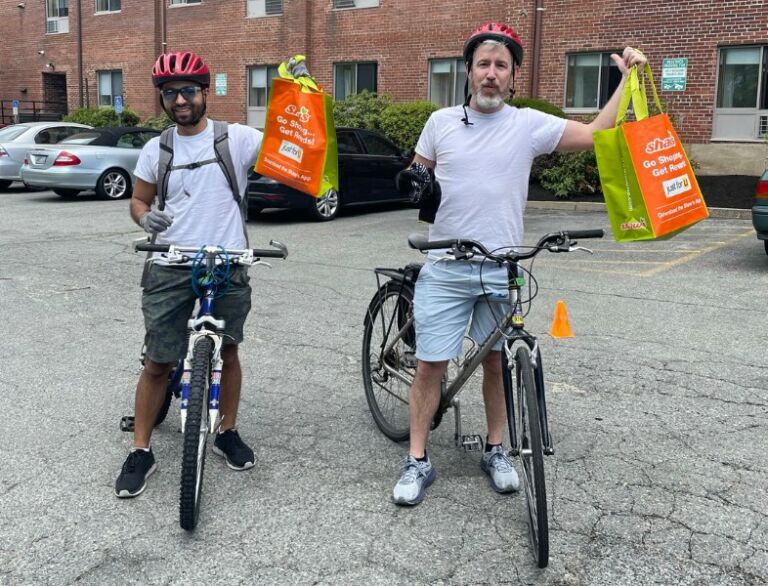 Good times were had by all at Plike Newport on Sunday May 16th 2021. The term "pliking" translates to picking up litter and biking. This concept caught the attention of Bike Newport's Hannah Cobb and inspired her to organize our first ever Plike Newport event. The free event was co-hosted by the Eastern Rhode Island Conservation District and was planned in conjunction with Aquidneck Island Earth Week. Attendees enjoyed beautiful spring weather as they biked around Newport –  cleaning up the city streets.
"Biking is a way to keep ourselves and our environment healthy. Pliking is a chance to take it one step further and pick up litter as we ride," Says Bike Newport's Development Director Jen Bristol who greeted visitors at the event.
The cleanup spanned several Newport neighborhoods from Broadway to Kings Park – First Beach, Second Beach, and more. Plikers enjoyed refreshments generously donated by local businesses including The Nitro Bar, Provencal Bakery & Cafe, Plant City and Brave Robot Ice Cream.
The event concluded with awards given for most unique find, best plike selfie, and most litter collected. Before leaving, participants posed in front of a colorful multi-media artwork created by FabNewport and students from Thompson Middle School; the piece represented the impact of litter on our planet. In total over 1,000 pieces of trash were turned in, adding up to over 110 pounds of trash collected!
"You get to cover a lot of ground as far as litter cleanup goes on a bike, and its' carbon neutral. It's good for your mental and physical health, as well as for the Earth," says event coordinator Hannah Cobb.
This event was made possible with donations from Shaws Supermarket, Newport Bio Diesel, Keep Nature Wild, and United by Blue. Big thanks to the Eastern Rhode Island Conservation District for your partnership and to Hannah Cobb for her vision and hard work making Plike Newport a success!