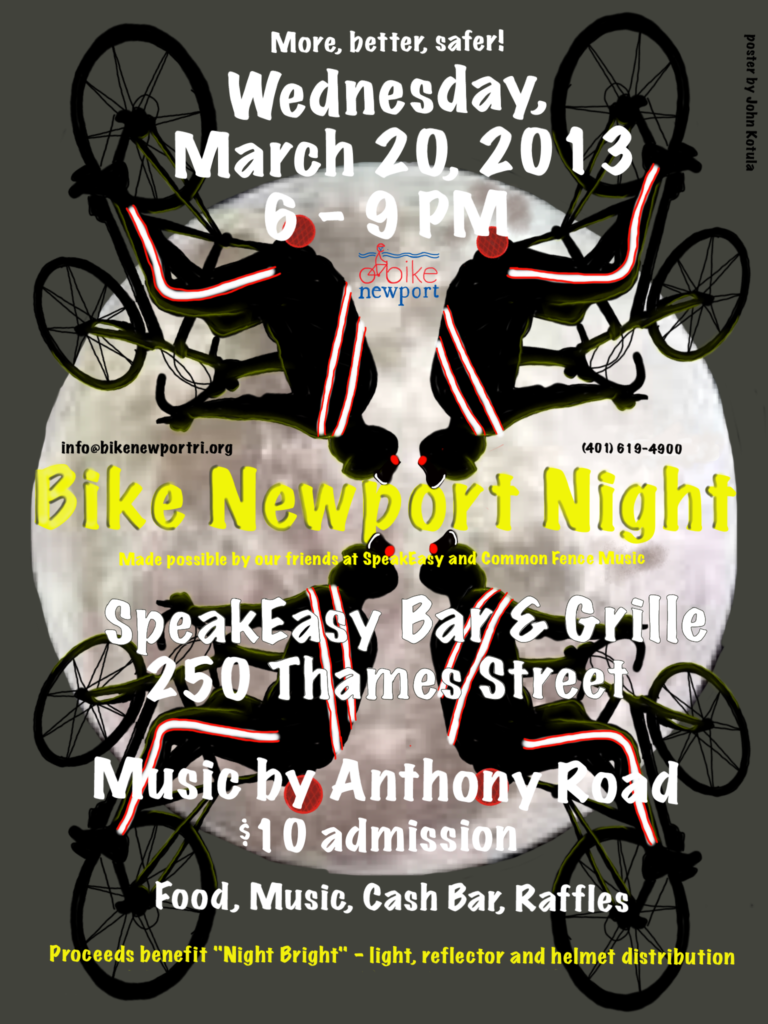 The second annual Bike Newport Night is just around the corner – Wednesday, March 20, 6-9pm at SpeakEasy, 250 Thames Street in Newport. Food by SpeakEasy, music by Anthony Road, and plenty of product to inspire bright nights and help us fund Night Bright – the initiative to distribute night equipment and information to our bicycle-dependent workers.
Thanks to our numerous contributors – raffle donations are rolling in!
If you'd like to add to the collection, let us know – (401) 619-4900, info@bikenewportri.org  Thank you!
RAFFLES and SILENT AUCTION Contributions
GRAND PRIZE – Cannondale Quick 6, sized to fit – donated by Newport Bicycle
Touro Synagogue Visitor passes
Old Colony Railway Family membership
Newport Historical Society Walking tour passes
Newport Mansions Annual membership
Preservation Society of Newport County Gift bag
Private Trainer Session with Kristen Correia
Vickers Liquors – Two bottles of tequila
Ace Hardware – Bird feeder and food
Wag Nation Merchandise
Stop & Shop Gift card
Thames Glass Glass blowing lesson
Life is Good Merchandise
Pleasant Surprise Gift card
Pulse Fitness Five class card
Firehouse Theater – Five pairs of tickets
Pedal Power – One tune up and two gift certificates
Common Fence Music – Two tickets to two concerts
Pedal Power – 2012 Raleigh Talus 29 Sport mountain bike
Mark Simmons – Two books – "True Prep" and "Preppy: Cultivating Ivy Style"
Team One Newport – Merchandise
The Bike Stop Cafe, Narragansett – gift certificate
Gray Matter Marketing – Two entries to the Newport 10-Miler April 28
Duris Studios – Mountain Mirrycle  mirror
Cadeaux du Monde – Earrings
Massage RI – Jesssica Gumkowski – massage therapy session
Green Envy – Gift certificate
Tim Leary – Frame mounted pump
Tim Leary – "700" Fenders
Tim Leary – Bike shirt
Brick Alley Pub – Gift card
Asian Caravan – Sushi dish set
Michael Hayes – Gift card
The Cookie Jar – Gift card
Salvation Cafe – Gift card
Holy Smokes – Gift card
Potter & Co. – Gift card
RI Massage – Gift card
Ten Speed Spokes Light and safety kit
Newport Wine Cellar / Le Petit Gourmet Wine lesson
Pete Rice Tires
Newport Fed Gift set
Bellevue Wines & Spirits Two bottles of wine
Hungry Money – Gift Card
Team One Newport  Merchandise
Island Pursuit Two gift cards
Laura Murphy Bike neck tie and book
Coastal Extreme Brewing One beer tasting and one rum tasting
Jane Pickens Theater Three movie passes
Aquidneck Honey Honey basket
The Mooring Gift card
Newport Festivals Foundation Two tickets to Newport Jazz Festival for Sunday August 4
Diego's Gift card
Wharf Deli Gift card
Bari George "Rides a Bike" book