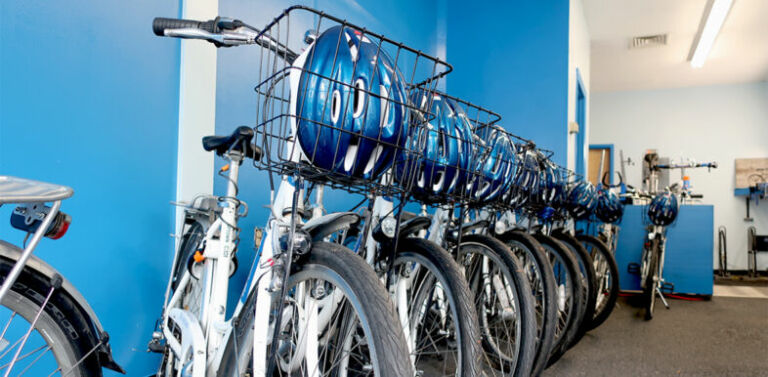 Rental Bikes have arrived to our new Annex at 56 Broadway – right next door to Bike Newport HQ.
We hear you! Newport needs more rental bikes. We now have a fleet of 20 bikes available for daily rentals. See pricing below. All revenue supports our bike safety education programs.
To rent a bike:
Stop by the Annex at 56 Broadway.
Contact the Annex at 401-619-4900 to reserve in advance.
Write to info@bikenewportri.org with any questions.
Pricing:
One Day: $40 (pickup 9am – return by 5pm)
Overnight: $20 (return by noon following day)
Weekend: $99 (pickup Friday between 3 and 5pm and return Monday by noon)
Deposit: $300 (added flat price hold on all rentals)
All bikes come with a lock, helmet, lights, and a bell
In addition to the rentals, the Annex is open for drop-off bike repairs.
Drop-off Bike Repair: 9am-3pm, Mon-Fri at The Annex – 56 Broadway
With two local bike shops recently closed, and more and more people getting on bikes, the demand for bike repairs has skyrocketed. To help meet the demand, we brought on star bike mechanic Ric Starry to provide fee-for-service repairs. You can bring your bike to Ric weekdays from 9:00am-3:00pm. All proceeds from bike repairs support our education and advocacy programs – win win!