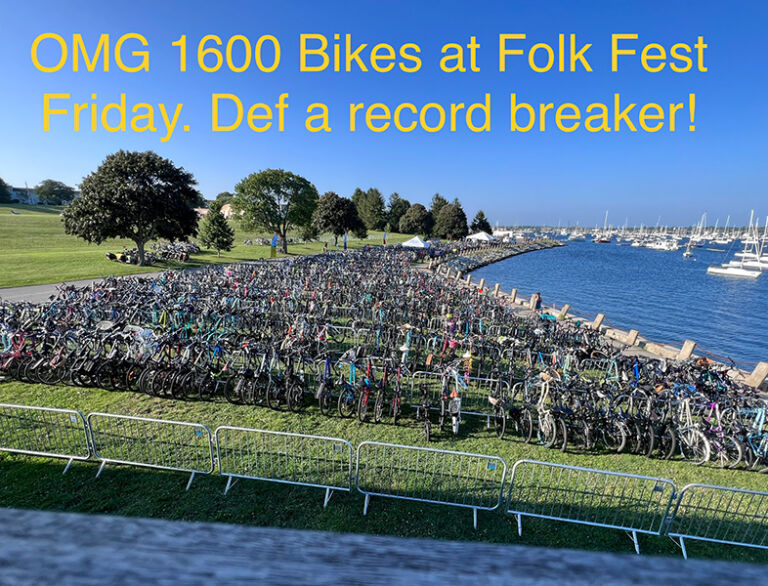 Wow! We broke a record this year with Friday cyclists numbering over 1,600, crushing the prior mark by some 400 bikes! And we held steady through Saturday and Sunday, despite the threat of storms on Saturday – which thankfully held off until everyone was safely home. In all, we parked nearly 5,000 bikes during the 2023 Newport Folk Festival.
MANY thanks to all who rode, to all who volunteered to welcome the sea of cyclists and bikes, to the Newport Festivals Foundation, to our sponsors at 11th Hour Racing,  to the Newport Public Schools and Newport County YMCA for supporting "Park & Bike," and to the Newport Police Department for helping us to guide, support, and keep everyone safe.
How does Biking to the Festival work?
Well, it all starts days before, when our volunteers are busy signing the roads for wayfinding and setting out the racks, and then more volunteers are at the festival from 7:30am until the last cyclist leaves at about 8:30pm.
Some determined festival-goers on wheels arrive even before that time, and by 8:30am, it's a steady stream that holds us all day long. After all, 1,600 is a LOT of bikes!
Volunteers assist bike parking all day, to ensure we make the most of the space and fit everyone in. Volunteers are helpful, bicyclists are awesome, patient, and kind, and everyone is happy to avoid the lines, expenses, and carbon emissions of driving and parking cars.
Bike Newport mechanics are available all day to fix flat tires, repair chains, adjust derailleurs, and make other minor repairs – ensuring all the bikes are in good shape for the ride home after the festival.
By 4:00pm, we're busy attaching blinking lights to every bike – generously donated by our bike-loving sponsor, 11th Hour Racing – so the folkies exiting are treated to a sea of flashing lights, and our cyclists are even better seen on their night ride home. 
When the exit stream begins, our volunteers shift to "untangle" mode – helping the sun-weary music lovers locate and remove their bikes from the packed racks. The trickle of early departures gradually ramps up to a vibrant exodus of people on their bikes after the last performance. People on bikes can then ride past the line of cars en route to downtown Newport, a sea of flickering bike lights and the pleasant sound of bells ringing. It's a picturesque sight, capturing the joy and freedom of cycling.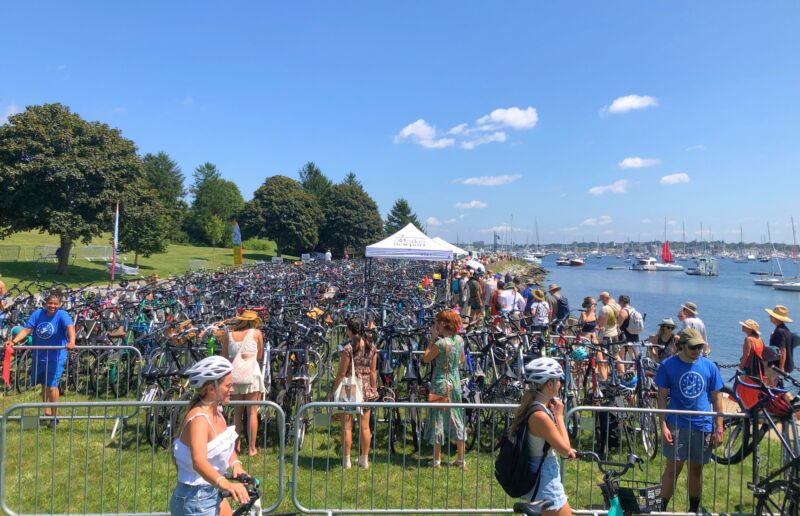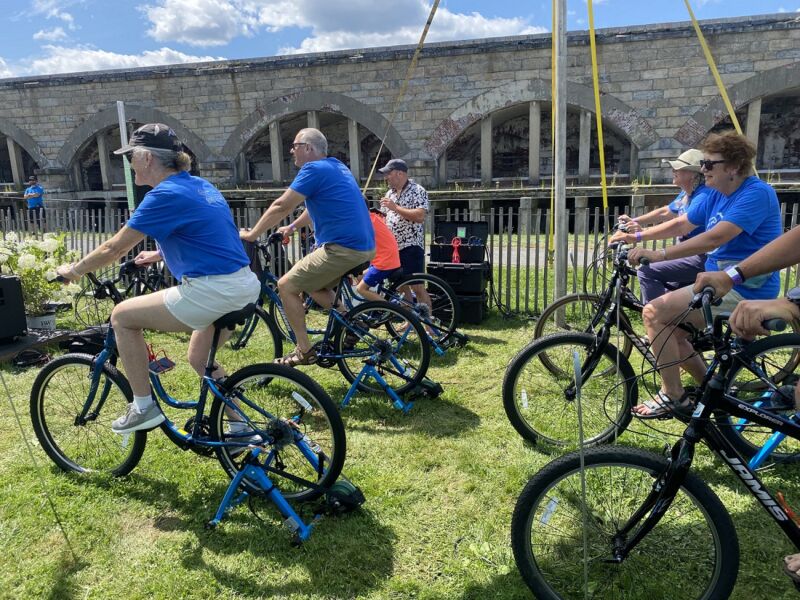 Witnessing the multitude of smiling faces riding their bikes to the festival each day is a heartwarming experience. Familiar and new faces alike, some have been parking their bikes with us for years and others embarked on their first bike ride to Newport Folk Festival.
We want to express our appreciation to the Newport Folk Festival for organizing this exceptional event year after year and collaborating with us to promote cycling to the festival. Our gratitude extends to all our community partners who work with us to ensure safe and enjoyable cycling experiences for everyone, including The City of Newport and Newport Police Department, and to the sponsor of festival bike parking 11th Hour Racing.
And while we're at it, a very special bike-friendly shout-out to Virginia rock duo Illiterate Dream for creating and hosting the Bike Stage (also sponsored by 11th Hour Racing). It was poignant for all of us to listen to terrific performers like Raye Zaragoza and SistaStrings, and to know that their sound was directly powered by the bikes that audience-members pedaled. At one point, a bunch of our Bike Team volunteers hopped on together to help power the stage as a group.
We look forward to seeing everyone at next year's Newport Folk Festival!