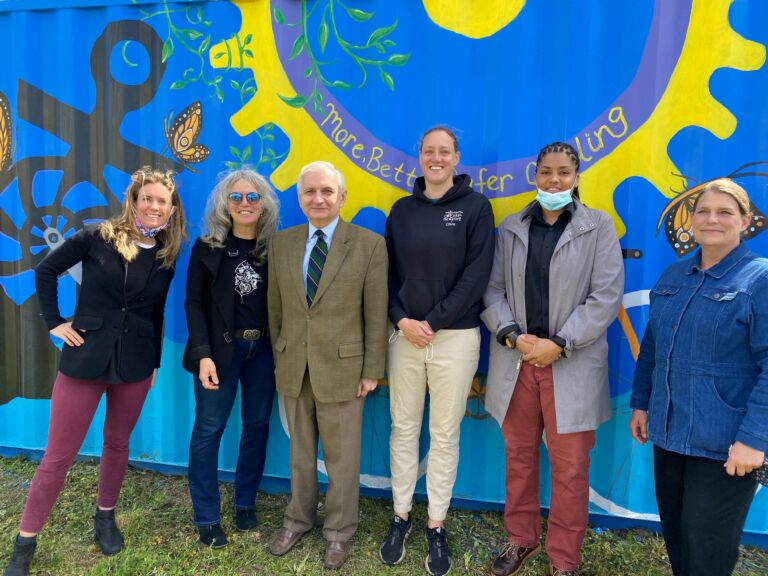 Transforming a Vacant Lot into Public Space
May 6, 2021
Senator Reed visited Bike Newport's Big Blue Bike Barn today to see for himself the promise of a precedent-setting three-way agreement by the Newport Housing Authority, the City of Newport, and Bike Newport. Joined by the Mayor, the Vice Mayor, the Director and Board of the Housing Authority, the staff of Bike Newport, and numerous residents, Senator Reed heard the story of the project, toured the acre campus, and hiked the connecting trails. Until recently, this vacant lot was enclosed by a chain link fence – until local agencies joined together to transform it into a welcoming public space.
Back in 2017, Bike Newport was operating a popular children's bike program in a parking lot container next to Newport's Florence Gray Community Center. The "Bike Library" had outgrown the small space – and the loyalty of neighborhood youth called for something bigger and better. The Housing Authority had a vacant lot nearby, but it needed to be kept available for future development of affordable housing. Together, Bike Newport and the Housing Authority made a plan to transform that lot for community use in the interim.
What followed, thanks to the generosity of the Housing Authority and Bike Newport's fundraising and partner-building, is the transformation of the property into a one-acre campus for bike programs and food growing, riding, hiking, and gathering with new trails connecting directly with the trails of historic Miantonomi Park.
Generous funders including (but not limited to) Rhode Island Foundation, national People for Bikes, Powered by Prince, Bazarsky Family Foundation, van Beuren Charitable, Ocean State Charitable Trust, and, most recently, Bank Newport and The Champlin Foundation – along with numerous other community partners – made it possible to plan the vibrant campus. In addition to the three "Big Blue" storage containers, the planned amenities include community gardens in partnership with Aquidneck Community Table, a children's pump track in partnership with People for Bikes, and a beautiful canopied open pavilion designed by architecture students at Roger Williams University.
All queued up and funded, the project hit a bump. What evolved into a grand public space is not insurable by a small nonprofit like Bike Newport, and the City could not insure land it didn't own. The project came to an 18-month standstill while all-hands-on-deck sought a similar model, to no avail. Ultimately, three-way determination resulted in a three-way land lease that made it possible for the City to lease and Bike Newport to sub-lease the land while the Housing Authority maintained ownership of this important parcel. Bike Newport can now, finally, build the pump track and the crowning shelter that will complete the campus and provide much-needed safe space for kids of all ages to ride bikes and for people of all interests to gather. It will also be the center of Bike Newport's year-round education programs and its growing after-school and summer bike programs for Newport's youth. Hold onto your hats – and sign up to help – because we hope to build both shelter and the pump track before Summer Bike Camp starts in July. (Want to help? Please let us know!)
We hope that our solution will be a model for more municipalities to partner with property owners and nonprofits to convert vacant lots to public space until they are needed for other purposes. We hope to spread this encouraging story in the name of greening urban spaces and creating gathering places.
For more information, please contact Bari Freeman, Bike Newport Executive Director, at (401) 619-4900 or bari@bikenewporti.org.
To read more about the Big Blue Bike Barn, click here.
__________________________________________________________________
MANY thanks to Senator Reed and all who joined us to welcome him:
Jeanne Marie Napolitano, Mayor of Newport
Lynn Ceglie, Vice Mayor of Newport
Rhonda Mitchell, Executive Director, Newport Housing Authority
Charles Laranjo, Board Chair, Newport Housing Authority
Nikki Vasquez, Board Member, Newport Housing Authority
Pauline Perkins Moye, Community Coordinator, Newport Housing Authority
Chris Albert, State Director for Senator Reed
Erin Arcand, Community Affairs Coordinator for Senator Reed
Brent Brown, Bike Newport participant and student intern
James Winters, Newport resident and resident of the former Fahey Ave
Bari Freeman, Bike Newport Executive Director
Jen Bristol, Bike Newport Development Director
Clare Woodhead, Bike Newport Education Director
Allyson McCalla, Bike Newport Community Relations Director
Nina Maxwell, Bike Newport Communications and Advocacy Manager