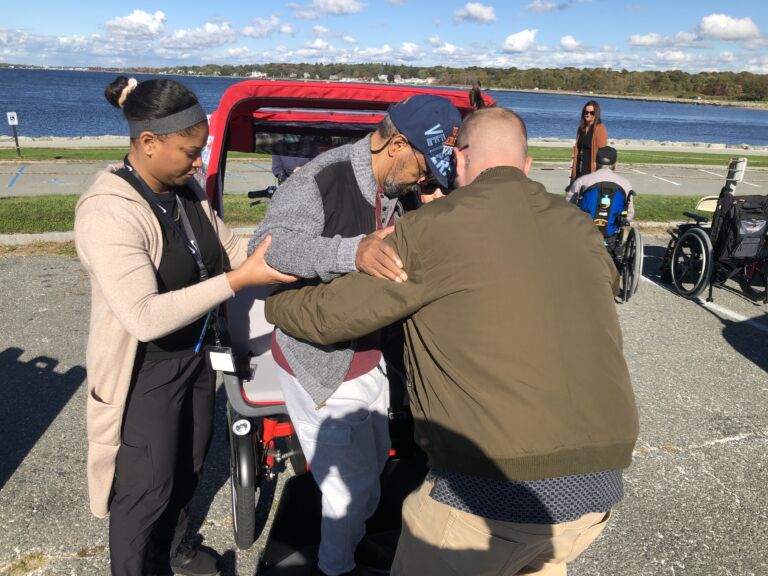 Getting outdoors to enjoy fresh air and friendly social interaction is such a vital outlet for older adults, and Bike Newport is thrilled to be a catalyst for these impactful outings in our area. As the local chapter of the worldwide movement called Cycling Without Age, we are honored to provide piloted social cycling rides on our specialized trishaw ("The Chat") for those who can no longer pedal themselves.
The experience is equally uplifting for our passengers and our volunteer pilots, as we share delightful conversation and reminiscences. Please watch this gorgeous video from AARP Rhode Island. Whether we're cycling through Colt State Park with heroes from the Rhode Island Veterans Home in Bristol (above), or riding past the colorful gardens at Atria Aquidneck Place in Portsmouth (right), every outing is an opportunity to connect, share, and spread good cheer. Already this year we've given rides to more than 80 passengers!
Our busy 2023 season of Cycling Without Age is made possible through grant support by AARP. Bike Newport is grateful to have received a 2023 Community Challenge Grant as part of AARP's nationwide Livable Communities initiative.
The program was also made possible by the generosity of donors Jana & Don Jagoe and Carol & David Bazarsky, who made it possible to import The Chat from Copenhagen.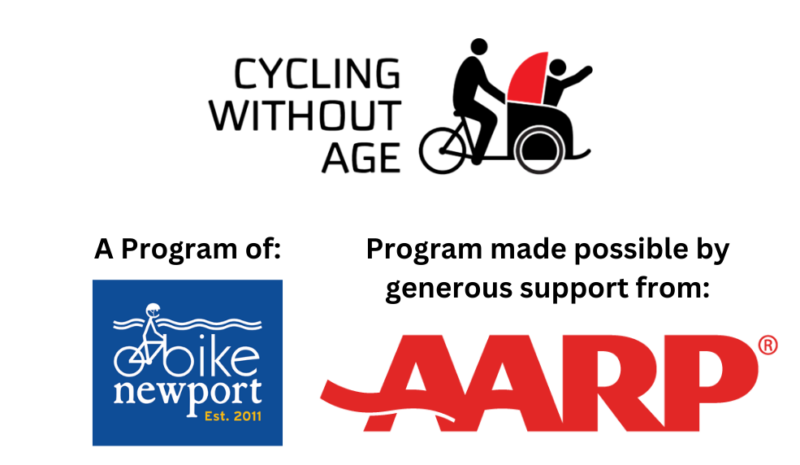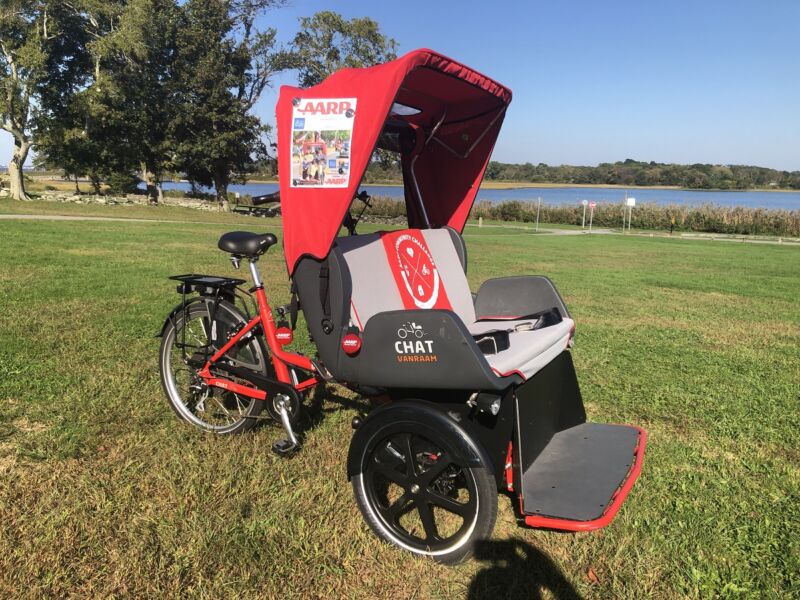 The Chat is a head-turner wherever we go, which is also part of the fun. Onlookers can't help but to smile and wave or cheer us on as we pedal past and ring the classic bell, all of which further enhances the enjoyment of our passengers.
In recent months we've featured The Chat in a Memorial Day Parade (right) and in the nation's oldest 4th of July Parade, both in Bristol, RI, and at the Broadway Street Fair in downtown Newport. Our program was the focus of a recent WADK radio interview which we encourage you to listen to here, and our program is featured here on the national AARP website.