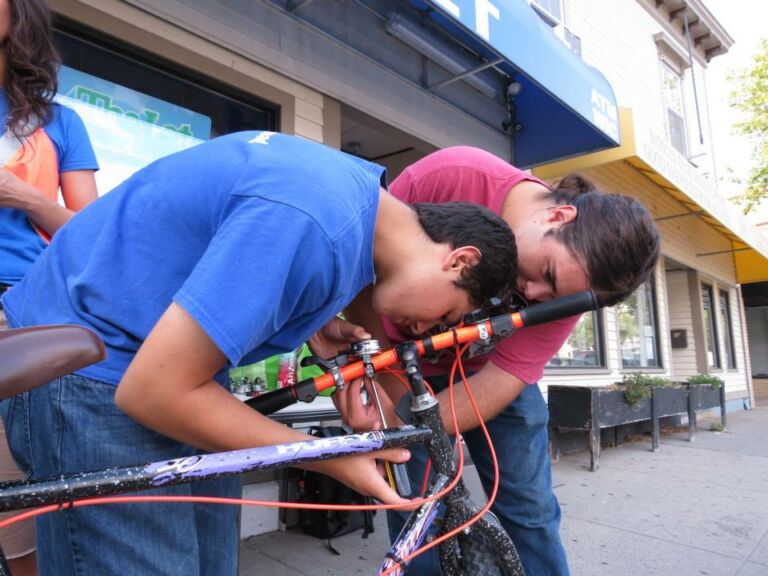 Autumn is fast approaching, and with it the back-to-school rush. Organizations and companies all over the country will relinquish the talents and hard work of their interns, and Bike Newport is no exception. You may have seen these two young men about town at our various events and rides. We could not have executed our programming this summer without Rob Dowler, 17, and Kyler Dillon, 16.
Both Rob and Kyler got their start as bike mechanics two years ago at the Bike Garage at the East Bay MET School, where they'll be juniors this fall. They both credit the MET's Community Learning Specialist and Bike Newport Board Member Steve Heath with enticing them into learning how to fix bikes.
"I always liked bikes," Rob says. "I just didn't know much about them– how they work or how they're built. I had limited knowledge."
Kyler agrees, saying he didn't know much before, but now: "I just like working on the bikes themselves. I ride everywhere so it's not a chore, it's enjoyable."
Both guys say they like to work with their hands and fix things in general. Rob interned with a commercial retail boat repair company his sophomore year, while Kyler takes apart and fixes computers. Now however, they prefer bikes.
When asked about their favorite event of the summer, Rob and Kyler immediately respond that working at the Folk Festival giving tune-ups and helping to park the nearly 2,000 bikes that swarmed Newport that weekend was the highlight of their summer internship. "It was a bit of a grind," Rob says, "but totally worth it."
The paid internships are funded by the East Bay Community Action Project's Summer Jobs Program spearheaded by Steve Dolce. Mark Chesterton, Bike Newport's Director of Youth Programs, has been directly supervising Rob and Kyler since he was hired in March.  He says, "We are so fortunate to be able to secure funds to employ youth in such meaningful, fun and community-minded work."
Although they'll have to devote the majority of their time to being high school students, Rob and Kyler will still help Bike Newport out at various after-school programs and events. We thank them so much for their hard work! You guys rock!