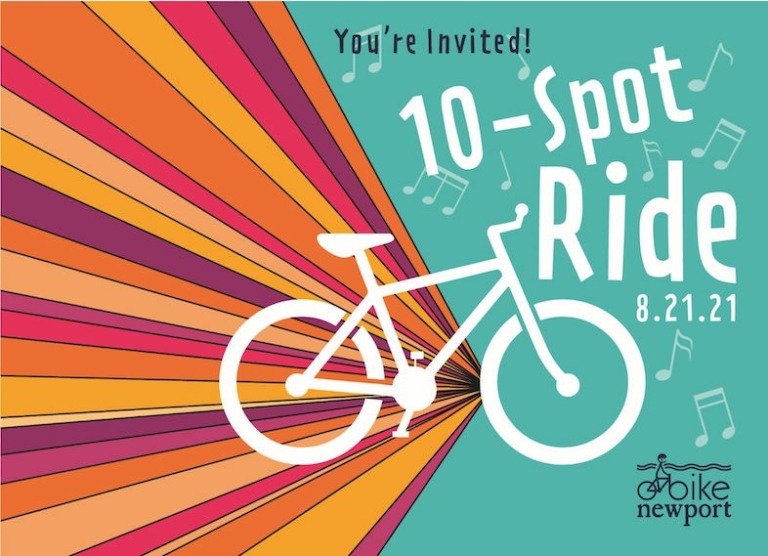 The 10-Spot Ride is back!
On August 21st, you can pedal around Newport and experience local food, music and fun on the way – all to celebrate, support and benefit bicycle education, infrastructure, and community. Limited tickets are available, so sign up soon HERE.
WHAT IT IS: Ride your bike to ten lovely spots scattered around Newport, secret until the day of the event, each a surprise, each generously hosted by Bike Newport supporters, and each providing themed food, drink and live music. Your only assignment is your starting spot – after that, you choose the order and route for your visits.
Only 200 tickets will be sold.
Questions – or interest to help sponsor a Spot – please email our Development Director, Jen Bristol, jen@bikenewportri.org.
Thank you and see you on August 21!
Tickets are available online and quantities are limited.
Awesome 10-Spot Participating Restaurants:
BRAVE ROBOT
The Coffee Guy
Hawk & Handsaw
Heineken 0.0
Humming Bird
Leo's Market
Midtown Oyster Bar
O'Brien's
Pour Judgement
Rose & Petal Cakery
Salvation Cafe
Stoneacre Garden
Tijuana Burrito Grill
Vieste Simply Italian
Amazing 10-Spot Musicians:
Julio Amaro
Beth Barron
Fay Bullard
Allysen Callery
Dragonfly Marie
Derek Escher & Ann Meers
Mel
The Newport String Project
Patty & Buster
Michelle Siegal
All proceeds from the 10-Spot Ride support Bike Newport's mission to create the conditions that lead to more people biking more often, and to ensure that bicycling is a viable, safe, and comfortable primary choice for transportation and recreation. Lots more information at bikenewportri.org or call (401) 619-4900.