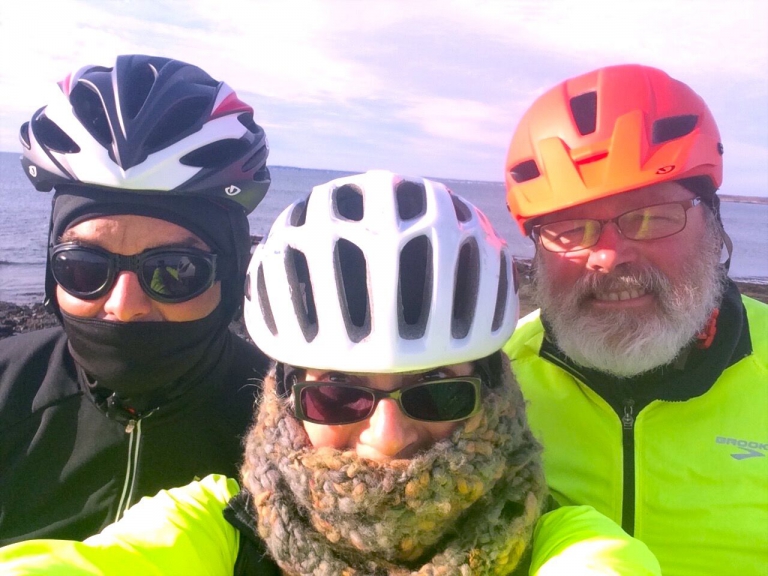 Less daylight and cold weather doesn't have to mean less time on the bike.
1) Embrace the weather
It's coming and there's nothing we can do to stop it so let's get out there and enjoy it. Experience those frosty views with a cold breeze on your face, raindrops on the end of your nose and the warm buzz of warming up afterwards.
2) Weather proofing
You don't need fancy biking gear to ride all year round. Layering is key. A warm base layer, mid-layers and a waterproof/wind resistant jacket will do it. Rain pants work well, a hat under your helmet, warm socks and gloves and you're good to go.
3) Speed and conditions
Winter roads often mean wet roads. Slick, greasy, dirty roads mean less traction. Slow down sooner and be even more aware of the road ahead. If you don't have fenders yet, they could be your best friend in wintery conditions. Block out that salt, sand and dirt from the roads and protect your bike from the elements.
4) Get lit
Having lights with you at all times also relieves the worry that you will get caught in the dark during shorter days.
Headlights: Handlebar mounted headlights can be USB rechargeable or run on batteries. There's a range of brightness, and settings that are steady and flashing. Many cyclists use a flashing front light during the daytime for increased visibility. Bike shops can help you choose the best light based on how and where you ride.
Light up your helmet: A front helmet light sends light whichever way you look. Smart!
Rear light: Many cyclists use red blinking lights throughout the day to be more visible as cars approach from the rear. Rear lights can be mounted on fenders, seat posts, seat stays, racks, or saddlebags.
Reflective Vest or Jacket: Reflective material increases visibility exponentially and can make cyclists much more obvious on the road at night. In fact, highly reflective material can be far brighter even than the bike lights. Be careful – brightly colored clothing is not the same as reflective. Bright clothing may be highly visible in the daylight, but no different from any other color at night. Be sure that nightwear is reflective.
5) Check your bike
Don't forget the simple ABC Bike Check. Read more on how to check your air, brakes, cranks and chain.
Give your bike a regular look over, and try and wash off the accumulated grime regularly. Check for wear on rims and brake blocks, as wet weather can be particularly harsh on these areas.
And don't forget to come to Bike Newport's Open Bike Garage nights and learn how to take care of your bike, get advice and make any winter tweaks to your bike you need. See you there!
Mondays 4.30 – 7pm, and Saturday 1-4pm – 62 Broadway, Newport. 02840