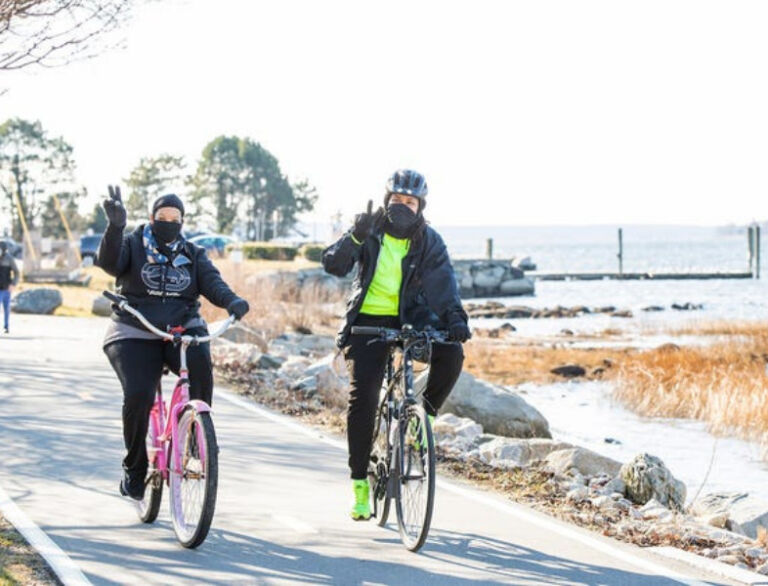 Less daylight and cold weather doesn't have to mean less time on the bike. Here are some tips for you to make the best out of your bike this winter.
Embrace the weather
Weather proofing
Speed and conditions
Get lit
Check your bike
1) Embrace the weather
It's coming and there's nothing we can do to stop it so let's get out there and enjoy it. Experience those frosty views with a cold breeze on your face, raindrops on the end of your nose and the warm buzz of warming up afterwards.
2) Weather proofing – Layer up 
You don't need fancy biking gear to ride all year round. Layering is key, like wearing warm tights and a warm undershirt. 
Wicking material is great – remember you can still sweat even in freezing temps and a damp underlayer can make you cold even when you're layered up.
Using mid-layers such as fleece, sweaters, sweatshirt and long underwear under a waterproof/wind resistant outer layer with a jacket and rain pants work well.
For your extremities: 
Head: a hat or winter headband under your helmet

Feet: Warm socks – ones with a wicking material are helpful to keep feet warm and toasty. Waterproof shoes are helpful in wet or snowy weather.

Hands: Hands are arguably the most exposed part of your body during winter riding. A good pair of wind and waterproof gloves can make your ride much more enjoyable. Your gloves should be snug (to avoid chafing), but you don't want them too tight that the webbing impedes movement. So, gloves, mittens, or both? Gloves will never be as warm as mittens – which bundle all your fingers together to generate more heat. Mittens, on the other hand, lack dexterity and the thicker the mitten, the less dexterity in your fingers. If you want the best of both worlds, check out a pair of lobster claw style gloves. Each mitt is divided into three compartments, one for the thumb, one for the pointer and middle fingers and one for the ring and pinky fingers. .
3) Speed and conditions
While the far right of the road might seem like a place to stay out of harm's way, that's not necessarily the case while winter riding. The immediate curb area is where plowed snow, muck and broken glass accumulate. Also, the farther right you are, the harder it is for drivers to spot you in the dark.
Identify road and weather conditions:  Winter roads often mean wet roads. Slick, greasy, dirty roads mean less traction. Slow down sooner and be even more aware of the road ahead. Watch out for areas with melted snow because it will likely refreeze overnight. Bridge decks and low spots are also prone to ice formation. If you end up rolling over an icy or slippery patch, then try to coast across without braking or steering.
If you don't have fenders yet, they could be your best friend in wintery conditions. Block out that salt, sand and dirt from the roads and protect your bike from the elements.
Take up the lane: Riding in the middle of the right-hand lane makes you more visible and deters drivers from trying to squeeze by as they pass. (Instead, they're apt to move a full lane to the left.) You'll also be keeping your bike farther away from roadside debris. Note: If the road has a bike lane that's full of snow or other hazards, then ride in the right-hand car lane instead.
Ride relaxed: Locked knees and elbows make it harder to react smoothly. Instead, stay loose and use your legs to absorb any motion created when running over snowy ridges or other road rubble. Be alert and ready to steer around ice, slick leaf-covered surfaces or tire-piercing debris.
4) Get lit
With less daylight hours and the sun at its weakest, winter days can get gloomy and overcast. Keep a set of front and rear lights with you at all times. Having lights with you also relieves the worry that you will get caught in the dark during shorter days. Make sure your bike lights are charged up (or carry extra batteries) before you head out.
Headlights: Handlebar mounted headlights can be USB rechargeable or run on batteries. There's a range of brightness, and settings that are steady and flashing. Many cyclists use a flashing front light during the daytime for increased visibility. Bike shops can help you choose the best light based on how and where you ride.
Light up your helmet: A front helmet light sends light whichever way you look. Smart!
Rear light: Many cyclists use red blinking lights throughout the day to be more visible as cars approach from the rear. Rear lights can be mounted on fenders, seat posts, seat stays, racks, or saddlebags.
Reflective Vest or Jacket: Reflective material increases visibility exponentially and can make cyclists much more obvious on the road at night. In fact, highly reflective material can be far brighter even than the bike lights. Be careful – brightly colored clothing is not the same as reflective. Bright clothing may be highly visible in the daylight, but no different from any other color at night. Be sure that nightwear is reflective.
5) Check your bike
Don't forget the simple ABC Bike Check. Read more on how to check your air, brakes, cranks and chain.
Consider switching to knobbier and/or wider tires during winter months. Deeper, knobbier tread grip better on wet, slushy and mucky surfaces that are common during winter months. Wider tires provide more surface area contact with the road, thus more traction. 
Keep tires inflated to the lower end of the tire pressure range. Lower pressure allows for more road surface contact, more traction, and less bumps while navigating potholes and debris. It is important to check your tire pressure before every ride – especially when keeping tires in the low end of the pressure range. Tires lose a little bit of pressure slowly over time and cold temperatures reduce air pressure even more. Get in the habit of checking your tire pressure before every ride. 
Give your bike a regular look over, and try and wash off the accumulated grime regularly. Check for wear on rims and brake blocks, as wet weather can be particularly harsh on these areas.
And don't forget to come to Bike Newport's Open Bike Garage nights and learn how to take care of your bike, get advice and make any winter tweaks to your bike you need. See you there!
Mondays & Thursdays 4:30-7 pm and Wednesdays 2-5 pm – 62 Broadway, Newport. 02840