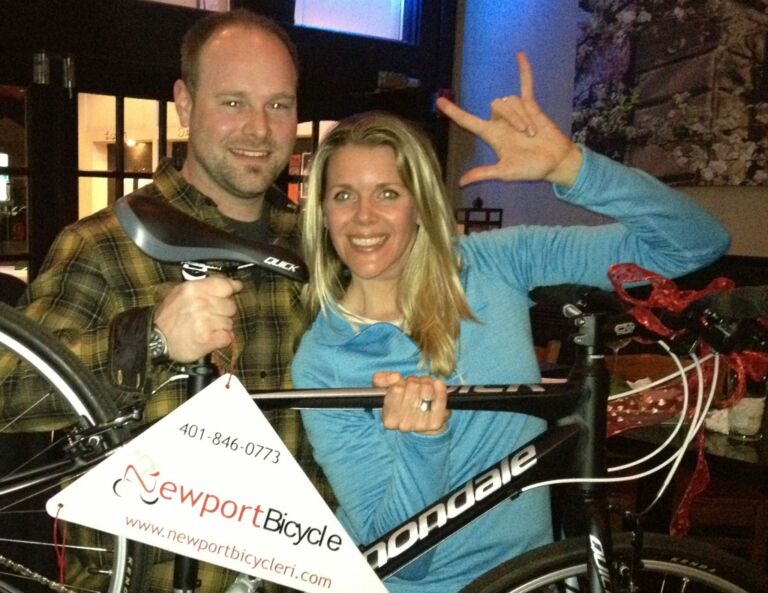 Thanks to all who came out for last night's Bike Newport Night!  Together we raised over $3000 for "Night Bright": our inventory of night safety equipment for our bicycle-dependent workers. Many Bike Newport supporters left with arms and pockets heavier with raffle and silent auction prizes – including Grand Prize Winner Jen Sannes and her beautiful Cannondale courtesy of Newport Bicycle! (pictured here – Jen with her Cannondale and Braden of Newport Bicycle)
We all know it takes a village to pull off any event – and no less for Bike Newport Night!  Please take a moment to read our list of friends and partners, and enjoy knowing that we are all in this effort together.
The Team at SpeakEasy:  Kevin, Michelle, Mike, Josh, Krista
The fab four of Anthony Road:  Tom Perrotti, Mike Fischman, Ed McGuirl and Greg Ferreira, along with guest  Jim McGrath.
Sponsor of Night Bright, Newport Fed; and sponsor of our pedal-powered generators, People's Credit Union
Bike Newport Board of Directors: Deanna Casey, Tina Dolen, Christina Erwin. Steve Heath, Brian Hennessey, Allison McNally, Laura Murphy
Bike Newport Night Volunteers:  Lori Bates, Pat Clayton, Chuck Flippo, Paul Hoffman, Sam Jernigan, Sarah Leary, Tim Leary, Fr. Tom O'Neill, Peter Rice,
Bike Newport Staff:  Mark Chesterton, Casey Farley, Bari George, Mike Montas
And the generous and always bike-friendly businesses of our fair city:  Ace Hardware, Aquidneck Honey, Asian Caravan, Bellevue Wines & Spirits, Bike Stop Café, Brick Alley Pub, Brooks Brothers, Cadeaux du Monde, Carroll Michael & Company, Chuck Flippo, Coastal Extreme Brewery, Common Fence Music, Cookie Jar, Diego's Restaurant, Duris Studios, Empire Tea & Coffee, Firehouse Theater, Farmaesthetics, Gray Matter Marketing, Green Envy, Holy Smokes, Hungry Monkey , Island Pursuit, Jane Pickens Theater, Kristen Correia, Life is Good, Mark Simmons, Massage RI,  Michael Hayes, The Mooring, Newport Bicycle, Newport Fed, Newport Festivals Foundation, Newport Historical Society, Newport Power Yoga, Newport Wine Cellar, Old Colony & Newport Railway, Pedal Power, People's Credit Union, Pete Rice, Pleasant Surprise, Potter & Co., Portsmouth Yacht Rigging, Preservation Society of Newport County, Pulse Fitness, Salvation Cafe, Stop & Shop, Team One Newport, Ten Speed Spokes, Thames Glass, Tim Leary, Touro Synagogue, Vickers Liquors, Wag Nation, Wharf Pub.
Thank you!