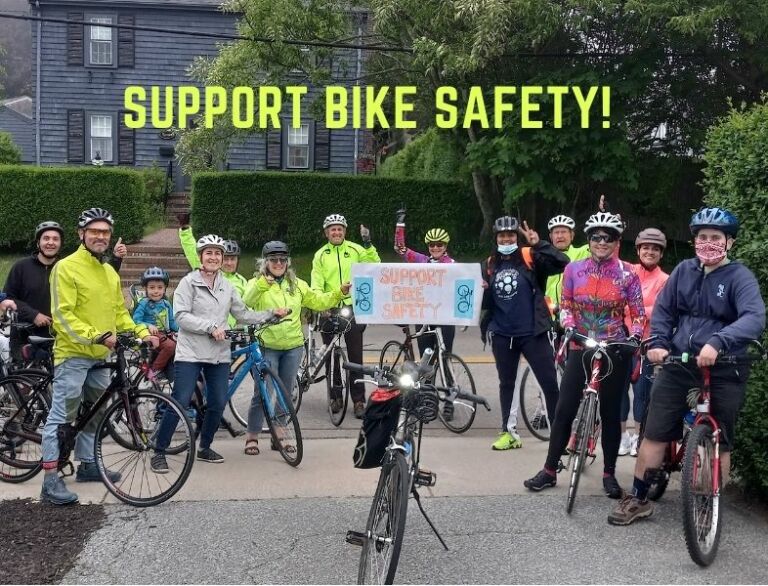 A Resolution proposing that more bike lanes and shared lanes be added to Newport City Streets, will be back on the city council docket on Wednesday June 9th, after a technicality disqualified the resolution from discussion at the May 26th meeting. The Newport Bike Safety Resolution, proposed by Councilors Lynn Ceglie and Jamie Bova needs your support.
Write a Letter: Please continue to send our City Councilors letters of support. HERE is a sample letter to get you started. Please request that the current resolution be amended to specify improving safety with citywide bike lanes and shared lanes, and a timeline and plan from the Department of Planning in order to do so expeditiously. Send your letters to lswistak@cityofnewport.com. You can also send your letter to the editor of Newport Daily News to inspire others: editor@newportri.com.
Join Us: On Wednesday, June 9th, we will gather outside at Newport City Hall, 43 Broadway, to participate in the virtual City Council session together via Zoom on our phones – beginning at 6:30pm. Pizza will be provided across the street at Bike Newport HQ –  along with a big TV view of the meeting. Please come on down and bring your bikes and your bike-friendly buddies!
Call in From Home: Watch the City Council discussion and vote. Please "raise your hand" and share your support for safer streets for all road users now. HERE is the Zoom link to join the meeting. HERE is the Agenda. The meeting begins at 6:30pm and the resolution is #9 on the agenda.
PS Here's the recap of the Rolling Rally for Bike Safety Now on May 26th. Thanks to all for participating and helping with this important effort!