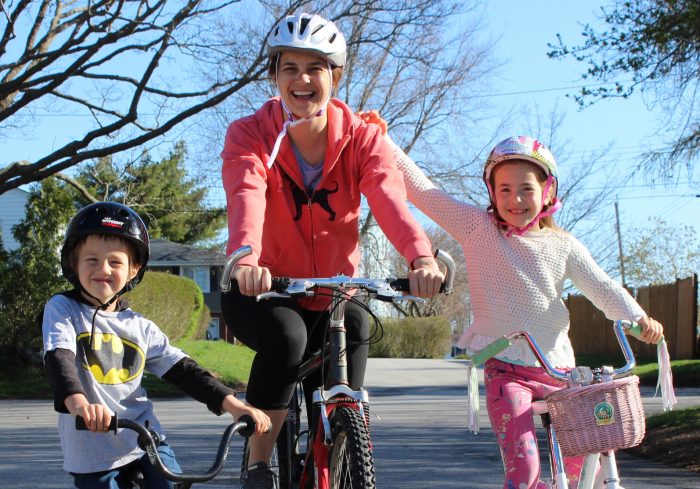 This Saturday, May 5th, we will host the first-ever car-free
community bike ride on Middle Road in Portsmouth.
We are VERY excited. Opportunities to ride car-free on Aquidneck Island are few and far between, and pretty much limited to parks and parking lots. But not this weekend! With the help of the Portsmouth Police Department, the blessing of the RI Department of Transportation, and the support of dozens of generous sponsors and energetic volunteers, we will have two wonderful hours of stress-free street biking in Aquidneck Island's lovely farming corridor.
Hooray, we say!!! And there is one person whom we can thank for making it happen. Meet Daniela Abbott.
Daniela approached Bike Newport just five short weeks ago. "Would you help us to run a community ride in Portsmouth?" she asked. "What are you thinking?" we replied. "Car Free," she answered. "We're in!" we enthused. But there was a caveat. "We are full up", we shared. We can promote it, and we can marshal it, but you'll have to pull off all the permissions, partnerships, sponsors, neighborhood alerts, and even the graphics. "No sweat," said Daniela. And the rest is history. Or it will be, come 4pm on Saturday, when we break down from the inaugural soon-to-be-annual Farm-to-Farm Bike Ride in Portsmouth.
Daniela hit the ground pedaling – calling sponsors, raising cash, rallying town officials and police, downloading permits, and personally designing and distributing all of the posters, flyers, Facebook banners and more. Somehow, we kept up with her whirlwind. And here we are three days out from what promises to be an amazing day.
Do come!! The event runs from 2-4pm on Saturday, May 5th. You can arrive by bike or car to the north end of Middle Road, where parking will be available. You'll be directed to the start at the Middle Road side of Escobar's Inn. The full length of the route is two miles, a comfortable four-mile round-trip for just about any rider or walker. You'll pass six family farms along the way and enjoy some of the nicest agricultural scenery on the island. Find out more at www.bikenewportri.org/farmtofarmride/
But let's get back to Daniela. We love her story – and so will you!
Dr. Nate Tilman is a Portsmouth Dentist, and sponsor of the Farm to Farm Ride (Thanks Nate!) We asked him why he sponsored this ride so quickly and so generously. Here's what he had to say: "Daniela? She's Superwoman. It's amazing the number of different activities she's able to organize and still make it all look so effortless. When I heard the evolution of this event and Daniela's role in it, I wasn't at all surprised. I hope it becomes an annual event to have a traffic-free family bike event. It's something we need!"
We asked the same question of ride sponsor Nick King of Bristol Marine (Thanks Nick!). "Daniela? She's a force to be reckoned with. She comes up with an idea and sees it through and doesn't let anything stand in her way. I support Daniela in all her ventures – whatever they may be!."
And then there's Daniela's husband, Brendan, president of the fan club. "We've been talking about improving biking on the island ever since we moved here. We've traveled a bunch and have seen that the most vibrant communities support biking. Most people might think that better biking is a small deal, but Daniela knows it's a community game changer and she's working to make it happen."
Yowza – we love go-getters. And that would be Daniela. She's determined to help more people get on bikes, and she knows that we need to make it safer, easier, and more comfortable to get over that hump of concern about riding with cars. We can't just put people on roads with no sidewalks and no accommodation for bikes. We need to GO GET those improvements.
Here's Daniela's version of the story:
"I grew up in Sao Paulo, Brazil – population 20 million.  My brother and I rode circles on our bikes around our apartment building tennis court.  Summers in Minnesota, I marveled at the freedom of riding my bike from home to the town beach with my cousins.  That's my dream for Aquidneck Island!   
"I know, we can't change overnight, people need to first embrace transportation options and not rely on cars for everything.  Having healthier alternatives will improve our quality of life and bring our communities closer together.
"The goal of the Farm-to-Farm Bike Ride is to create more community awareness and call for outdoor activities that families and friends can do together – including every age and ability. Middle Road has farms and nurseries all along the way.  Riding and walking past them helps us all to value our local farms!"
 Daniela's been thinking about improving biking in Portsmouth, and all across Aquidneck Island since her new mom days pushing a stroller – and being terrified on Middle Road. To this day she watches joggers, walkers, and bikers navigate the same. She's determined to GO GET those improvements. To create and expand a network of safe, separated routes island-wide, so everyone can get where they're going on bicycles and walking – and not be forever car-dependent.
THANK YOU, Daniela! We'll see you on Saturday and thank you in person. You and other bike riders and advocates are inspiring. It takes commitment like yours to make progress. We'll get there together!!
Does Daniela inspire you? Do you know a Bike Hero? We'd love to feature their story, too! Email Clare and tell us more.
Ride safe. Ride happy. Ride!