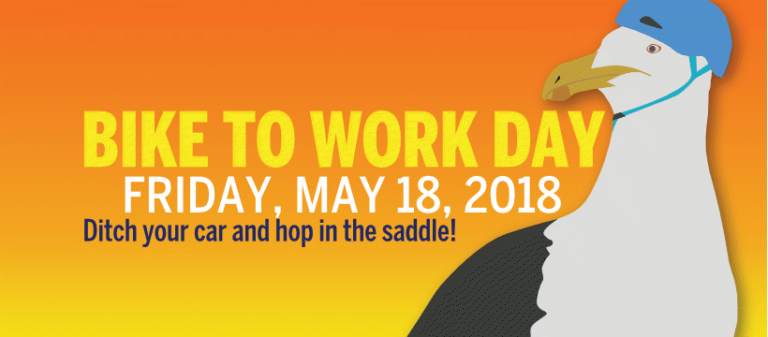 Friday May 18th • 7:00am • City Hall
Bike to Work Day is an annual event held on the third Friday in May all around the world promoting bicycling for daily transportation. Here in Newport, we've been celebrating Bike to Work Day since 2011. Today is the day to give Biking to Work a try! Leave your car at home, hit the saddle and turn your commute into a workout. Bike to Work Day brings the community together to celebrate bicycling as a fun and healthy way to get to work. Bike with family, friends or colleagues to Bike Newport's Bike Commuter Breakfast and end the day with a city loop group ride. All activities take place at City Hall.
Here's what happening for Bike to Work day on May 18th, 2018:
Morning Celebration:
7:00am-9:00am – 
 Bike to City Hall in the morning on the front lawn.
We'll have morning snacks and bike-friendly demos. and RIPTA will be on site with info on how to load bikes onto their bus racks.
Afternoon Celebration:
4:30pm: Announcements on City Hall front lawn. Exciting news about Bikeshare, the Big Blue Bike Barn and more.
5:00pm: After work group ride around downtown.
Commute too long? Live over the bridge?
Park & Bike at 437 Broadway (Triplett School) or at 792 Valley Rd (Newport County YMCA)
Already a happy transportation cyclist? Encourage your friends to get in the saddle. Share the love! Biking to work is fun, healthy, invigorating AND makes us more happy and productive – give it a try and experience it for yourself!
Don't forget to bring your bells to celebrate!