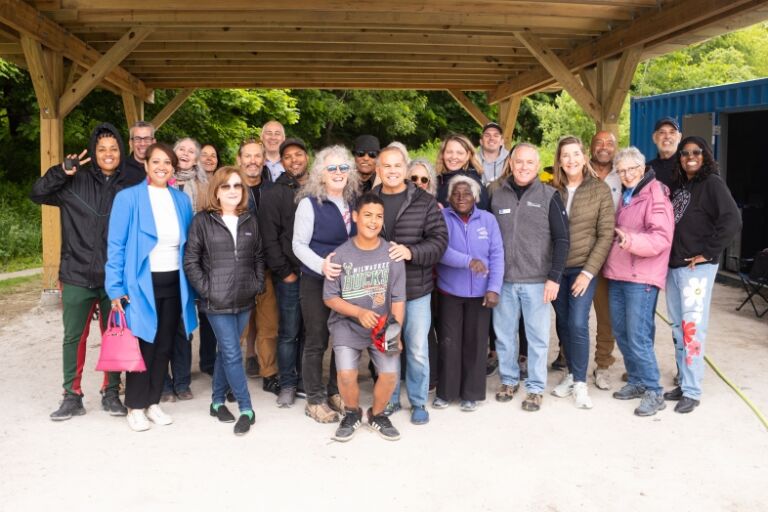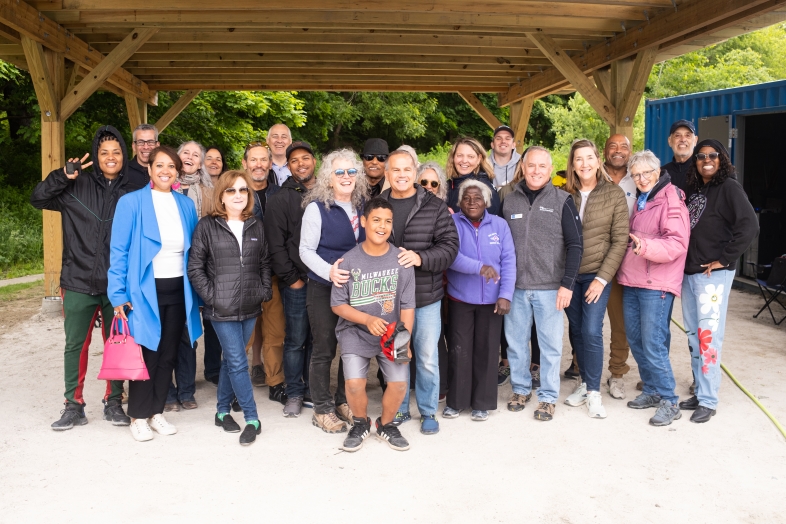 We thank everyone who joined us at The Big Blue Bike Barn Celebration. The event showcased the vibrant and caring community of people and agencies that partnered with Bike Newport to make this one-acre outdoor campus possible. Transformed from a vacant lot, the Bike Barn has evolved into a thriving community space for the growing bicycling community in the surrounding North End neighborhoods, Newport, and beyond.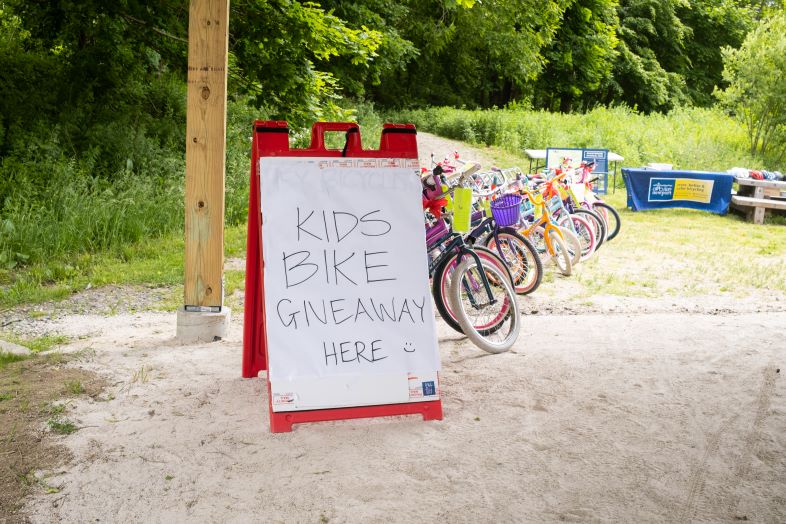 A Community Transformation
Just a few years ago, the Big Blue Bike Barn was an unused land waiting to be developed. The property owner, Newport Housing Authority, generously and thoughtfully made it available for Bike Newport to transform it into this valuable, healthy, and active community resource. The Bike Barn now features various amenities, including community gardens, trails leading into Miantonomi Park, a gathering space covered by a two-tiered wooden canopy designed by architecture students at Roger Williams University, an excellent dirt Pump Track for kids of all ages, and a wide array of equipment and experiences to share. Additionally, Bike Newport offers the Bike Library and a Summer Bike Camp for local youth, further enriching the community.
"The reality of the Big Blue Bike Barn is even better than what we dreamed together," shared Rhonda Mitchell, Executive Director of the Newport Housing Authority. "Working with Bike Newport, we've established a model collaboration in the best interest of our community and we couldn't be happier."
Recognizing the large numbers of attendees who came from surrounding communities, Bari Freeman, Executive Director of Bike Newport, expressed her pride in the project, "This amazing space has become a real gathering place and a wonderful gift not only to the north end of Newport but to all of Newport and beyond."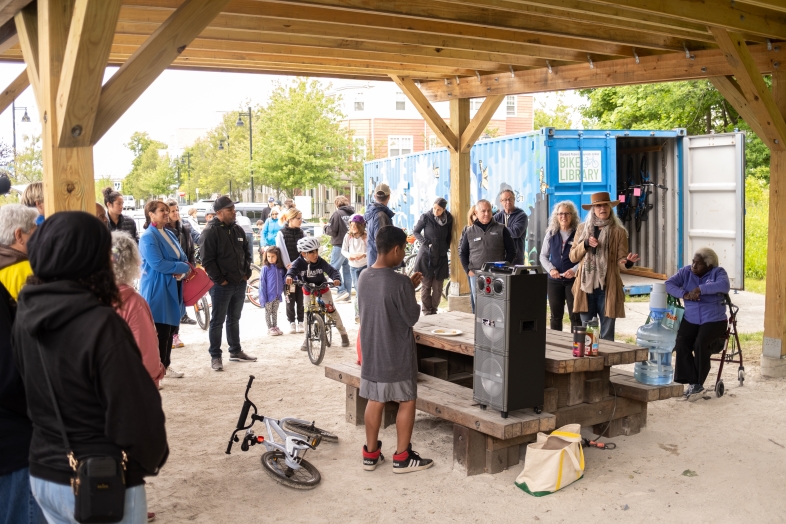 Recognition and Support
Numerous community leaders, partners, and dignitaries were on hand to celebrate. Their participation highlights the significant collaboration between public figures and grassroots organizations in creating meaningful community spaces. Former Congressman and now CEO of the Rhode Island Foundation, David Cicilline, has long been a supporter and an outstanding community partner for our efforts at Bike Newport. He commended the project in his comments to those gathered, "When you see the young people riding and the kinds of activities and the fun that they're having, this is a great community asset."
Bike Newport acknowledges the many generous contributors who made the Big Blue Bike Barn possible, including BankNewport, Bazarsky Family Foundation, Bloom Family, CDBG grants, Champlin Foundation, EJMP Fund for Philanthropy, Greenbridge Charitable Fund, Gruben Charitable Foundation, Hamilton Family Foundation, Kaminitz Family Foundation, LISC, Merritt Fund, Ocean State Charities Trust, People for Bikes, Powered by Prince, Rhode Island Foundation, van Beuren Charitable Foundation, and many others.
Looking Ahead
The Big Blue Bike Barn Celebration was a joyous occasion that brought the community together. Reflecting on this milestone, we eagerly anticipate future celebrations at the Bike Barn. Our vision extends beyond the current achievements to the continued growth of cycling in Newport, ensuring the safety and well-being of our children while bicycling and reimagining how we navigate and connect within our community.
The Big Blue Bike Barn stands as a testament to the power of community collaboration, resilience, and dedication. Through the combined efforts of Bike Newport, community partners, and the support of local representatives, this space has flourished into a valuable resource for the North End community. The Bike Barn is a beacon for promoting cycling, fostering community engagement, and offering transformative experiences for people of all ages. As we move forward, we are excited to build upon this success and continue our journey toward a more active, connected, and inclusive Newport.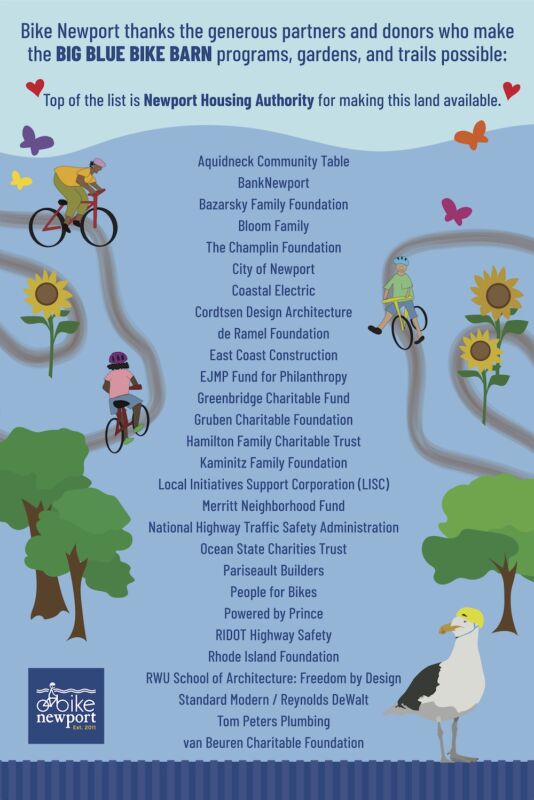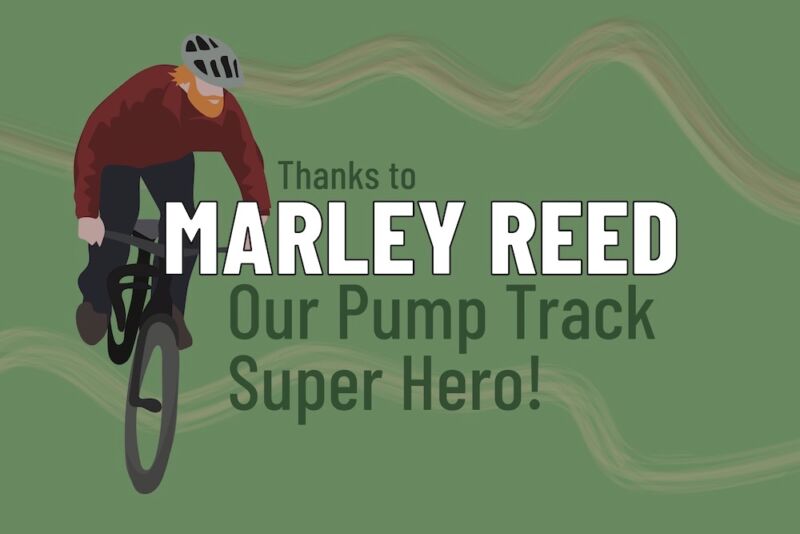 Come enjoy the Big Blue Bike Barn!
20 Sunset Blvd, Newport
Bike Library Mon-Fri 3:00-5:00pm
Bike Camp Six one-week sessions beginning July 10th – August 18th. Learn more
Pump Track and Gathering Spaces Open to the public when programs are not in progress