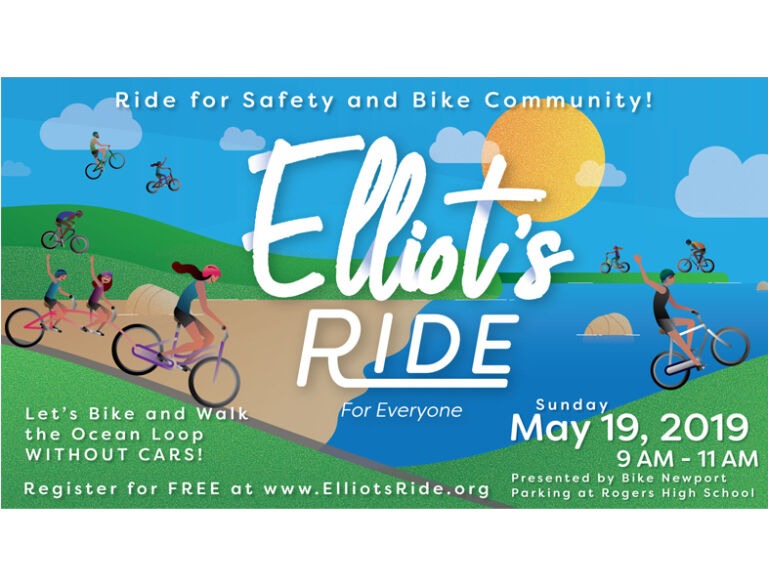 BIKE the OCEAN DRIVE without cars!
Join us May 19, 2019, 9AM-11 AM
Elliot's Ride for Everyone is an invitation to EVERYONE, of every age and every level of bicycle experience, to come out and ride and experience the joy of biking along the picturesque ocean coastline while celebrating the importance of safe road sharing.
Bring your family and friends, bring your neighbors – in fact, let everyone know and bring everyone you can 🙂 This day will be a wonderful chance to celebrate public space and show our interest in protected byways to access beautiful places safely and confidently.
Elliot's Ride for Everyone honors the life and passion of Dr Elliot Kaminitz – a much-loved community member who lost his life while riding on Memorial Blvd in 2012. Elliot wanted everyone to experience the joy of bicycling. www.elliotsride.org
This year Elliot's Ride for Everyone has a new route and new location – including the first ever closure of a section of Ocean Avenue for bicycles and pedestrians – happiness!
The ride start will be based at Rogers High School where there is plenty of parking, refreshment, and bathroom facilities. Newport Police will guide people across the street to the start of the car-free route – which continues south the length of Hazard Road, through the Goose Neck Salt Marsh to Ocean Avenue. The closure to traffic will span Ocean Avenue from Carroll to Harrison.
Note to area residents: Should you need access, there will be police escort available. Please alert the Newport Police or an Event Marshal and accommodation will be made.
Be sure to thank these generous community sponsors for supporting safer roads and for making Elliot's Ride for Everyone possible!
Big thanks to out gold sponsor, KVH, and community sponsors Discover Newport Newport County YMCA P3 Global Management ecoRI environmental news Reynolds DeWalt Standard Modern Company Rhode Island Department of Transportation