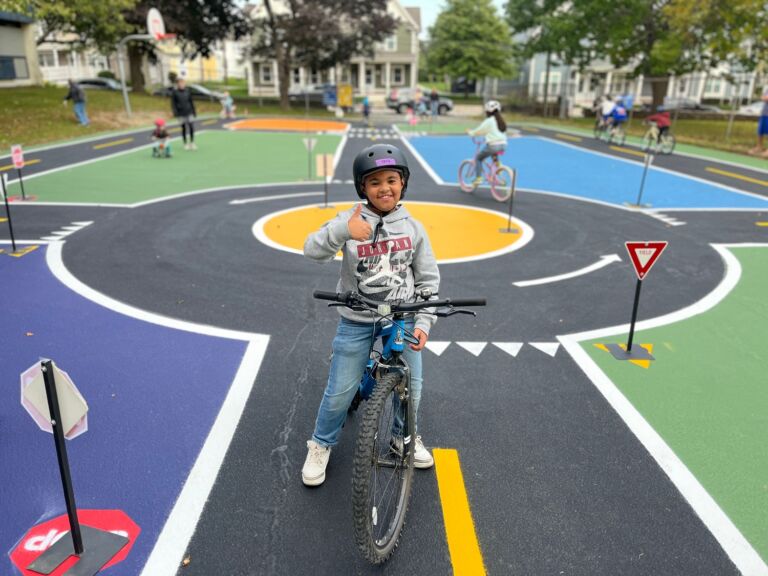 On October 10, 2023, Bike Newport welcomed community members of all ages to celebrate the completion of Rhode Island's first Traffic Garden – on Hillside Avenue, adjacent to Miantonomi Park, in Newport's North End neighborhood.
"Traffic Gardens" are scaled-down streetscapes that blend lighthearted play with feet-on-the-pedals learning, for an especially effective way to teach kids the rules of the road and how to ride safely. Watch the highlight reel below to see all the fun of kids practicing their skills and learning along the way … We're pretty sure you'll love it!
Bike Newport converts another vacant lot into a joy-filled community asset
This is Bike Newport's second successful conversion of a vacant lot into a wonderful community space in Newport for all to enjoy. Nearby, the Big Blue Bike Barn is a beautiful bicycle program hub on Newport Housing Authority property that had been a fenced-in vacant lot. Now, our cheerful Traffic Garden gives new life to a deteriorating parking lot on land owned by the City of Newport. We believe that converting vacant lots into vibrant public spaces until they are needed is the way to go – and we are very grateful to the Newport Housing Authority and the City of Newport for generously partnering and advancing these community projects.
Prior to the ribbon cutting, Mayor Xay Khamsyvoravong declared: "This is about maximizing vacant space in our city, not just for building and economic development, but for doing things that improve the health, safety, and well-being of our residents. This is a great step forward. Thank you Bike Newport for all the partnerships you brought to the table to make sure we maximize the use of a city public space."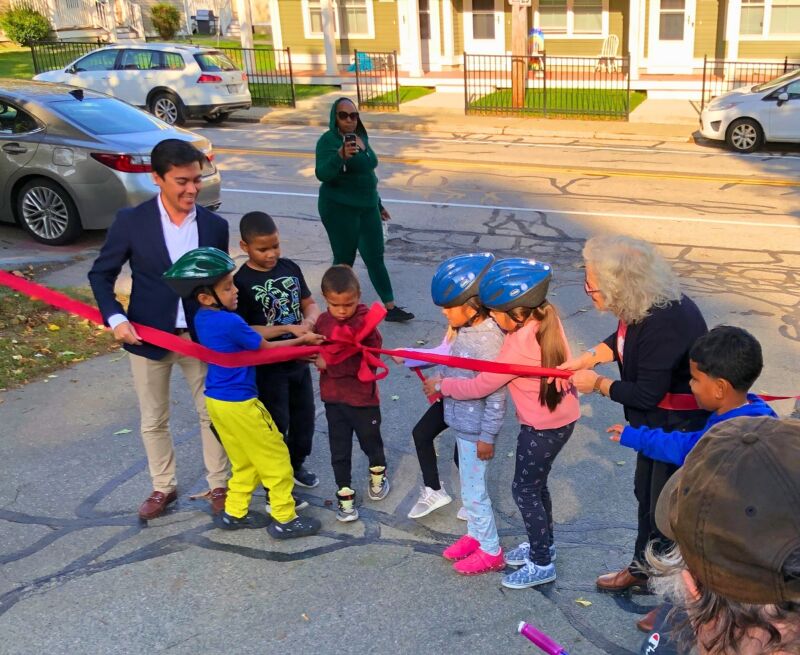 Bari Freeman, Founder and Executive Director of Bike Newport, addressed the children and adults present, stating: "Building infrastructure is really important: we need safe roads, we need separated bike lanes, we need separated bike paths. And we also need to learn how to ride our bikes, safely and separated. We need to learn how to signal, how to be visible, how to stop, how to go, how to be aware of pedestrians … how to know our place on the road whether we're biking, walking or driving."
Freeman continued: "All of this is education, and we at Bike Newport have been working towards improved education in our schools and in our community for a long time. This Traffic Garden enhances our education efforts with a healthy dose of fun, all safely tucked away from vehicles, and in a public space that anyone in the community can come and enjoy."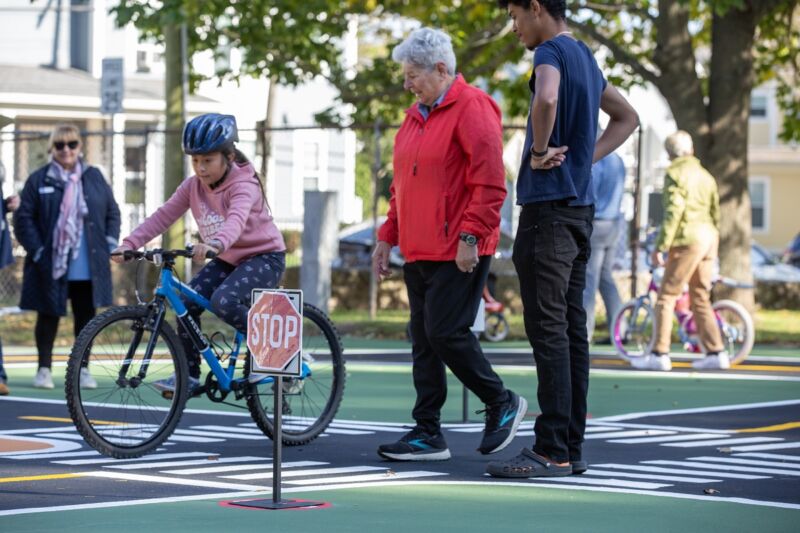 We're so happy and grateful that the City of Newport embraced the vision for this productive use of a vacant lot adjacent to Miantonomi Park. We thank statewide bike educator Betty Bourret for sharing our dream and helping us to see it through. We thank the Rhode Island Department of Health, Grow Smart RI, and Providence Streets Coalition for awarding the RI Streets Transformation Grant that launched the effort, and to the Rhode Island Department of Transportation and private donors for getting us to the finish line. Bravo to KCI Paving and Concrete and the crew from New England Sealcoating for going the extra mile to get the project done on time during one of the rainiest Septembers on record!
We'll be at the Traffic Garden frequently for bike safety programs, and we remind everyone that you can use the Traffic Garden any time for fun practicing bike skills in this safe and vibrant public space.
We hope ours will be just the first of many Traffic Gardens in our community and that towns all over Rhode Island and beyond will be encouraged to create their own community Traffic Gardens. We were inspired by visits to numerous traffic garden around the country and in the Netherlands and Denmark. We learned a great deal from Traffic Garden expert Fionnuala Quinn, her presentations at national meetings, and the book "One Traffic Garden at a Time" produced by Arlington County, VA, and Prince George's County, MA.